Top Five Moments That Prove LeBron James is One of the Most Clutch Players in NBA History
Published 07/30/2021, 2:51 AM EDT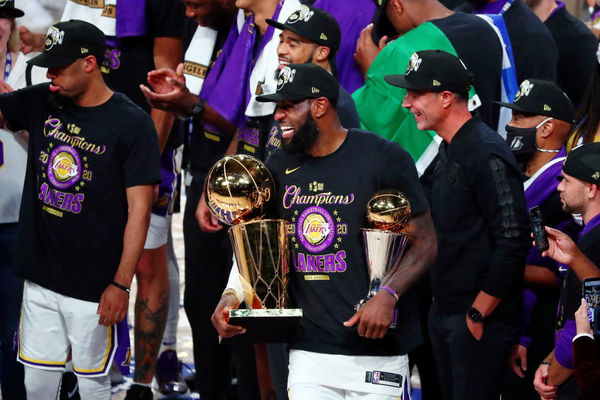 ---
---
Is LeBron James the Greatest Player of All Time? Probably one of the most widely debated hot topics in the United States entered a new chapter, following James' 4th championship, with his 3rd franchise. In fact, the debate which has lasted over a decade now, at its core, fields 2 simple arguments – clutch gene and championships.
ADVERTISEMENT
Article continues below this ad
While James hasn't had his fair share of success like Jordan, who boasts a perfect 6-0 record in the finals, representing the East in the NBA Finals for 8 straight seasons is no easy feat! Through those years with Miami or Cleveland, playoff LeBron locked down the East. And by 2017-18 it was a foregone conclusion – the King would be playing in June.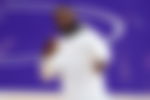 For a player of LeBron's caliber, playoff time meant showtime, as the player who many an analyst called the perfect blend of Magic and Michael went off time and time again in the postseason.
ADVERTISEMENT
Article continues below this ad
Furthermore, in a record where the volume of playoff appearances is stunning, James boasts an average of 28.7ppg/9.0rpg/7.2apg in 174 wins in 266 games across 15 seasons!
LeBron James, the modern clutch god
Yes, LeBron James is one of the most skilled clutch athletes of his generation. However, comparisons with MJ in this aspect are based on perception. But there have been enough instances where James has knocked down the shot to tie the game or take the lead in the final seconds of regulation, to justify equal footing.
Looking back, here are the Top 5 clutch moments of LeBron's career:
James facing elimination
2016 Finals Game 7 – Cleveland vs Golden State
James' block on Andre Iguodala was probably the greatest defensive play of his career. With Golden State out on a fast-break for a guaranteed bucket, it all looked grim for the Cavs, as even with Irving's shot they would be up by just 1 with 7 seconds in the ballgame.
But, in a play that most remember for Mike Breen's commentary  of "Oh blocked by James", the final momentum shift saw Cleveland come back from 3-1 and end their championship drought.
2013 Finals Game 7 – Miami vs San Antonio
After winning a pivotal Game 6 in Miami with LeBron scoring 16 straight in the 4th Quarter, the Heat and Spurs found themselves in a deadlock in Game 7. With no team showing signs of respite, James drove the Heat home, scoring crucial mid range jumpers to ice the repeat for Miami.
The Game 7 was a legacy game, and James, true to his reputation, delivered once again, scoring 35/12 with over 5 3pt makes in regulation to go with some stellar defensive plays on Tim Duncan in the 4th Quarter.
2021, Play In – Lakers vs Golden State
On the back of a torrid 2020-21 regular season, L.A. fell down to the 7th seed. And while LeBron wasn't too pleased with the Play In, James, who was having a rough night, showed up in the clutch.
Having suffered a blow to the head, James, while seeing 3 hoops, hit the shot of shots on guard Steph Curry to seal a 1st round matchup against Phoenix. This game saw L.A. come back from 13 pts down, also scrimping through as they avoided a loser-goes-home matchup against Memphis.
Other playoff buzzer beaters
2009 ECF Game 2 – Cleveland vs Orlando 
While the Cavs would eventually fall to the Dwight Howard led Orlando Magic in 2009, James proved his mettle, as he drilled a 3pt shot with 1 second on the clock to seal Game 2.
On a shot created via Mo Williams from out of bounds, LeBron rattled in the shot to tie the series at 1 game apiece. With the Cavs down 2, James executed the play to perfection to secure the win.
2018 Game 3 – Cleveland vs Toronto
James practically ruled the city of Toronto during his second stint with the Cavaliers, as they took out Toronto every single year in their journey to the Finals. Having already scored over 36 points in the game, James last shot was a testament of his legendary run in that postseason.
Having been swept before, this was once again familiar territory for Toronto, as with LeBron's bank shot, they would go down 0-3 and eventually suffer a sweep yet again. In fact, the faces of Toronto's roster said it all. It is no surprise therefore, that the year James left the East, Toronto went to their 1st NBA Finals!
Refuting the "LeBron James isn't clutch" narrative
ADVERTISEMENT
Article continues below this ad
These moments, along with countless others throughout a 19 year career, debunk the false narrative that James "doesn't have what it takes". Here are some of those moments, just from the King's last season as a Cavalier.
ADVERTISEMENT
Article continues below this ad
And while James has faced the flak because of his knack of "making the right basketball play," his FGM% in the last 10 seconds of a ball-game are exemplary. And with his 4th championship, 4th Finals MVP coming in 2020, does the modern day savant really have anything left to prove?
Watch this story – LeBron James Best Clutch Moments Of His Playoff Career Against Jimmy Butler, Victor Oladipo & Others