Top Six Michael Jordan Moments That Will Remain NBA's Most Prominent for Decades to Come
Published 02/05/2021, 9:54 PM EST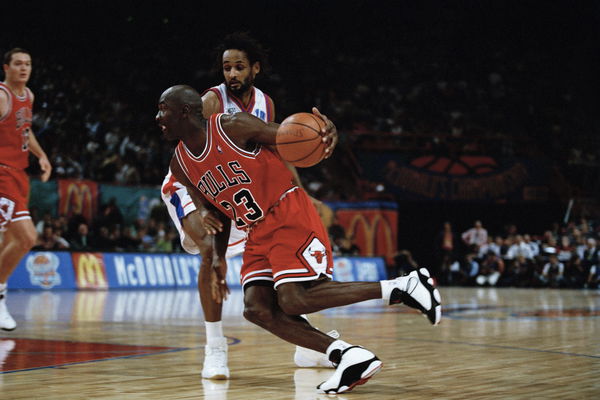 ---
---
Every time Michael Jordan was on the floor, the world expected a stroke of magic from this superstar of a lifetime. He was like almighty playing basketball in his free time. His two-decade-long career left the hoop freaks with enough material to spend a lifetime watching and re-watching.
ADVERTISEMENT
Article continues below this ad
Be it his picture-perfect Dunk contest moves or his glorified appearances of an unearthly clutch play, one can't afford to miss even one of his magical feats. Take a look at the few of the best from an ocean of the rest.
1987 Slam Dunk Contest win
ADVERTISEMENT
Article continues below this ad
1987 was a special year in MJ's career. He had bounced back from a broken bone injury and dropped his career's highest figures.
The legend averaged 37.1 points that year and also won the Slam Dunk. That gravity-defying dunk, flying all the way to the rim from the free-throw line, is one of the NBA Classics that gave him his much revered godly status.
1988 Dunk contest rivalry
Touted as the best dunk contest ever, this was a competition between Dominique Wilkins and MJ. They both shot 16 dunks among each other and each one of them was phenomenal beyond words.
Dr. J was in the audience while MJ lost the first round. However, he bounced back with an unplanned dunk from the FT line. Later, Wilkins made a 10'2" vertical hump back-board dunk, but it did not stop MJ from beating him.
1997 All-star Game 
This was a unique and memorable game for Michael Jordan in many ways. The Eastern Conference trailed in Q1 by 13 points and still won the game with a double-figure margin.
Also, MJ had a mediocre night from the field as he could convert only 35.7% of the field goals (just 57.1% FTs). Still, his Airness managed the NBA's first All-star triple-double with 14 points, 11 rebs, and as many assists. 
Kobe Bryant vs Michael Jordan in 1998
It's always great to see two legends from two unique eras competing against one another. The world missed seeing this happening with LeBron James and MJ because the latter retired the same year Bron joined as a rookie.
However, it could at least happen with the Bulls' great and Lakers' Kobe Bryant. The Bulls lost that game 87-112 but Jordan overpowered Kobe that night.
MJ scored 31 points while being a force from both ends, while the Black Mamba managed 20. The highlight of the night? Jordan butt-slapping a young Mamba.
2002 Dunk Miss
Three years after his controversial second retirement, the itch to play brought MJ back to the court in a Wizards jersey. He had two decent seasons (for a regular NBA player) but nothing like the set standards of the old MJ.
One moment out of those two seasons that made Jordan finally look like a human was a missed unguarded dunk. The crowd was in disbelief; the bench was in disbelief, a 38-YO smiling MJ was in disbelief. It appeared as if the Sun had sunk with that miss.
A fitting tribute to Michael Jordan
ADVERTISEMENT
Article continues below this ad
All of MJ's All-star appearances had something or the other to make them memorable for a lifetime. During the 2003 NBA All-star Half-time break, one of the most prominent singers of all time, Mariah Carey, wore an iconic blue #23 dress and sang Hero to pay tribute to MJ for all his contributions to the sport.
It was such a soulful performance that it almost made MJ cry as his eyes shined with the memories of his hugely successful career.
Watch This Story
ADVERTISEMENT
Article continues below this ad
Which of these top moments did you re-watch in loops? Help us know in the comments.
Read Also – The Last Dance Moments on Netflix: Top 10 Moments from Michael Jordan's Documentary That are Worth Rewatching