Top Three Free Agency Destinations for Kawhi Leonard If He Sits Out the 2021–22 Season With an ACL Injury
Published 07/16/2021, 10:50 AM EDT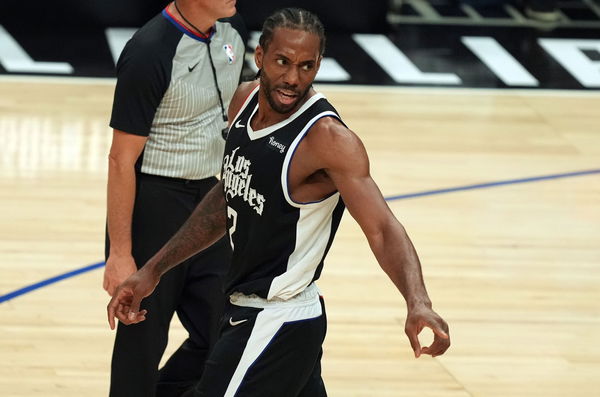 ---
---
The NBA, following the conclusion of these Finals, will head into arguably the most interesting period in its annual cycle. With trade season and free agency coming up from August 2, league aficionados are in for a rollercoaster. And in what promises to be the second act of events that transpired in the free agency in 2019, Kawhi Leonard is once again a free agent!
ADVERTISEMENT
Article continues below this ad
While the league expects the Los Angeles superstar to re-sign with the Clippers on a bigger contract, only Leonard and his camp know what the future holds. Kawhi, who had to withdraw from the WCSF with an ACL injury, will reportedly undergo surgery this season. And while this means that the superstar may miss a major part of next season, any NBA franchise will hedge their bets to acquire the superstar.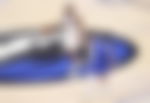 The Klaw, heading into his 11th NBA season, will actively target a championship next season, to join LeBron James, as the only other player with 3 championships and 3F-MVPs across 3 different franchises.
ADVERTISEMENT
Article continues below this ad
Kawhi's personal exploits this season increased up to 24.8ppg/6.5rpg/5.2apg in 52 games, while shooting it at 51.2% from the field and 49.8% from 3pt range. His offensive ability, combined with his defensive skill, makes the perennial MVP candidate the coveted prize of this free agency.
L.A. in a 'will he-won't he?' scenario with Kawhi Leonard
Even though Leonard looks to exercise a player option this offseason, the common notion is that the star will opt out to re-sign with L.A. on a 4-yr $176 million deal. League experts have also underlined a scenario that may see the Klaw sign on another 2-3 yr deal, allowing L.A. the required cap-space to potentially sign a third star.
If Leonard intends to migrate from Los Angeles this offseason, here are top teams favored to sign the star in free agency.
Miami Heat
Given Miami's surge in the East in the last 2 years, Heat Culture is amongst the frontrunners to land Kawhi. Given the roster composition around Miami stars Jimmy Butler and Bam Adebayo, South Beach may soon see Leonard debut at the American Airlines Arena.
Stephen A. Smith on Miami Heat

"Kawhi Leonard might come there because, undercover wise, his relationship with Jimmy Butler is pretty damn good."https://t.co/wyUpCfk8zr

— NBA Central (@TheNBACentral) May 25, 2021
In fact, given Kawhi's relationship with Jimmy, he may be the player Pat Riley is waiting on, before offering current Heat star Victor Oladipo a long-term deal.
Golden State Warriors
Golden State's bid to acquire Leonard in this free agency does not look promising given the cap space. But Myers and the front office would be eager to beat the odds a second time. The franchise will look toward a similar game-plan that saw Kevin Durant sign with Golden State.
And given Steph's extension deal coming up soon, the management will pull all strings to keep the Greatest Shooter of All Time in the Bay Area. In what would see them return to their championship days from 2015 to 2018, a starting lineup with Curry, Klay, Leonard and Green would easily be in contention to beat their 73-9 record!
The Leonard – Clippers dynamic
With Clippers owner Steve Ballmer pulling all the strings he can, building a new home arena in Inglewood, it will all be in vain if Leonard plans to move! Given his history, analysts aren't ruling out a move, especially owing to the handling of his injury. Will a repeat of San Antonio play out in L.A. given the growing lack of trust with the medical team?
ADVERTISEMENT
Article continues below this ad
Ballmer and the front office certainly won't hope so, especially considering the volume of assets the franchise parted with to land the Kawhi-PG duo.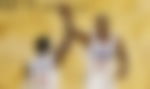 Safe to say, sleepless nights lie ahead for the little brothers in L.A. In fact, would it really be a surprise if Kawhi moves across the hall to don the Purple and Gold?
ADVERTISEMENT
Article continues below this ad
Watch this story – Kevin Durant-Kyrie Irving, Kawhi Leonard-Paul George & Other Top Playoff Duos This Season