Top Three Skills That Make Isiah Thomas a Fan of Stephen Curry and Kyrie Irving
Published 02/23/2021, 6:30 AM EST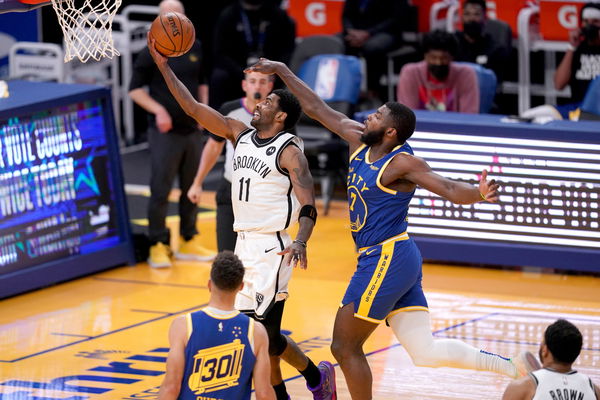 ---
---
Kyrie Irving (Brooklyn Nets) and Stephen Curry (Golden State Warriors) are probably the best point guards in the game today. They are so good at their art that it requires a whole different strategy for the coaches to work out the defense against them.
ADVERTISEMENT
Article continues below this ad
Among the two, Steph is more experienced and has tasted more on-court success than Kyrie. Having said that, Ky is almost sure to have a better current season than Steph in the given dynamics around their roster. But what is with them that has made a former NBA legend their fan?
Isiah Thomas and his admiration of the two stars
ADVERTISEMENT
Article continues below this ad
The two-time NBA Champion (Pistons) Isiah Thomas recently took to Twitter to praise both Stephen Curry and Kyrie Irving. With the timing of his tweet, one can make a guess that he loved Steph's 29-point double-double against the Magic and Ky's 28-point performance in their win over the Clippers. The 59-YO Hall of Famer praised their creativity, artistic abilities, and complete originality and wrote –
Steph is widely regarded as the game-changer in the league. His affluent three-point shooting started from his college days, got him championships, and is still going strong. On the other hand, Kyrie has the innate ability to surprise his defenders by finding new and frustrating moves, making the two PGs very creative in their play.
Kyrie Irving vs Stephen Curry: Who is better?
ADVERTISEMENT
Article continues below this ad
Steph Curry is most certainly a better catch-and-shoot player than Kyrie and has a gameplay that is very intelligent. He is also the 2-time league MVP who helped the Warriors in that 5-year golden run that helped them lift three titles. He is an on-court leader who is always keen on uplifting the rookies in the team.
Kyrie Irving is nowhere behind Steph either. He helped LeBron James and the Cleveland Cavaliers in defeating the Warriors and lifting the 2016 NBA title. His game-winning shot in Game 7 will go down in the history of the Cavs as one of the most remarkable moments. Plus, his ball-handling skills are elite and so are his dribbling and the finishing near the rim. 
Steph is a great rebounder, while Ky is a genius on the court. So while we are unsure just as Isiah is, and love them both, maybe you can help us with your views. Who is better, Steph or Kyrie, help us know in the comments?
ADVERTISEMENT
Article continues below this ad
Read also – Steph Curry Does Not Want to be Reminded of Kyrie Irving's Final Shot in 2016 NBA Finals