'Tough Blow': Lakers' LeBron James Expresses Deep Concern over Anthony Davis' Injury
Published 05/30/2021, 10:47 PM EDT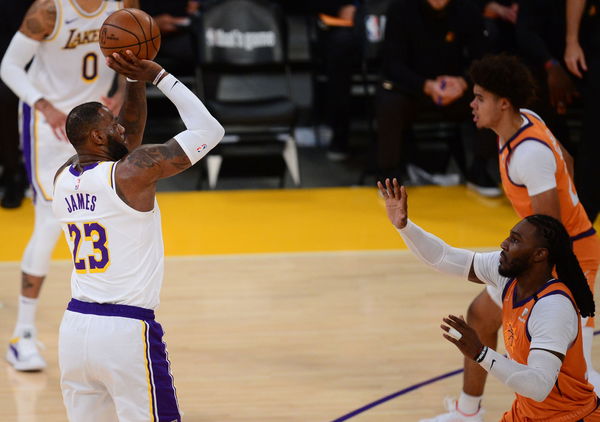 ---
---
Ever since LeBron James suffered a devastating injury in the regular season, fans knew that Lakers' title defense in 2020-21 would not be a cakewalk. Their 92-100 Game 4 loss against the Suns at Staples Center proved the same. 
ADVERTISEMENT
Article continues below this ad
However, even more than the loss, the Lakers would be disconcerted with forward Anthony Davis' injury. The big man was already on the injury list for knee troubles, and in the game, he ended up injuring his groin.
This is the worst that the Lakers could've asked for because AD was otherwise playing like an All-Star in the postseason.
ADVERTISEMENT
Article continues below this ad
Lakers' LeBron James is extremely worried but not under-confident
Anthony Davis played over 19 minutes before taking to the floor, lying and yelling in pain because of his groin soreness. He was attempting a layup when he went off balance and had to limp back to the locker room. 
By then, he had scored 6 points, 4 rebs, 3 assists, 1 steal, and a block. However, just like Game 1, his scoring was in deep waters with a worrisome 22.2% accuracy. 
After losing the game, LeBron James expressed some concerns over the injury as he said, "If he's not ready for Game 5, it's going to be a tough blow for our ball club. But next man up. We have been like that all year."
He revealed that he does not know the severity of the injury since he obviously did not get a chance to meet AD. But, when asked about his abilities to carry the Lakers all alone, the Akron Hammer talked like LeThanos and confidently expressed, "These shoulders was built for a reason and if it takes more from me to put on them, so be it. Win, lose or draw I'm ready for the challenge."
The Game 4 loss was certainly a hard loss for the Lakers, and they lost their grip over the game mostly because AD didn't come back. 
Watch this story – Best Posterizing Dunks By Lakers' LeBron James
How did the Suns use AD's injury to their advantage?
Since none of the Lakers' starters, apart from LeBron James, could score in double-figures, the Suns were anyway at advantage. Plus, they had their old Chris Paul back, and that helped their case big time. 
CP3 endured zero turnovers, added 18 points, 9 assists, and 3 steals to get the Suns a much-needed victory. Also, Deandre Ayton continued his ruthless scoring with a 17-rebound double-double and a 75% scoring.
The Suns were not as good from the perimeter, but they made up for it by gaining extra possessions on Lakers turnovers.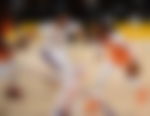 The only good news for the Lakers was their bench performing well tonight. However, just in case AD does not show up in Game 5, the onus will be on Markieff Morris and Kyle Kuzma to take the extra offensive load.
Even Kuz in the post-game conference seemed convinced as he said, "If AD's not out there, we have to play a different style of basketball."
ADVERTISEMENT
Article continues below this ad
Kyle Kuzma: "If AD's not out there, we have to play a different style of basketball."

— Mike Trudell (@LakersReporter) May 30, 2021
Do you see the Lakers winning the next game? Help us know in the comments.
ADVERTISEMENT
Article continues below this ad