Trae Young Calls Out Opponent For Dangerous Play, Gets a Cold & Sarcastic Response Instead
Published 12/27/2020, 5:01 PM EST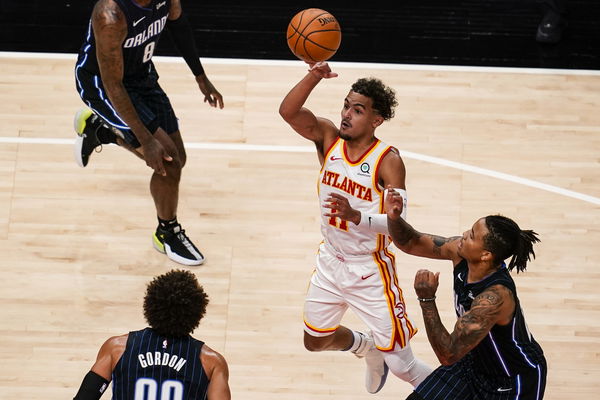 ---
---
There are already several claims being made that the NBA has become too soft, and the internet is now taking shots at Atlanta Hawks' Trae Young for the same reason. Young tweeted a GIF from his recent game and called out Memphis Grizzlies' Grayson Allen for dangerous play, and the latter responded in a different way. 
ADVERTISEMENT
Article continues below this ad
The Atlanta Hawks played the Grizzlies on Saturday night and came out with a ten-point victory in their road game. Right as the game was heading towards its final seconds, Trae Young had possession for the Hawks and dribbled towards the basket when he faced a double team from Grayson Allen and Dillon Brooks. 
As Young tried to dribble past the double team, Allen tried to catch him from behind and tripped the point guard. The Hawks player received a foul in his favor and later vented his frustration on Twitter. 
ADVERTISEMENT
Article continues below this ad
Grayson Allen sends Hawks' Trae Young a cheeky reply
Trae Young was fuming about the dangerous play from 25-year-old Allen and wrote 'This gotta stop' on Twitter. He clearly isn't entertained by his opponent's methods to retrieve the ball, but Allen and a few others on the internet took a dig at Young for his soft mentality. 
For starters, Grayson Allen ignited the fire as he shared Trae Young's tweet and responded in a saucy manner. "Damn that must've really really hurt. I'm sorry. I hope you're okay," the shooting guard wrote. 
A lot of fans expressed their opinion on the play and it favored either player. Several users criticized Trae Young for being too soft and registered their explicit comments against him. 
lol this is so soft. Magic and Bird were basically tackling and punching each other in the 80's. Make the NBA tough again, rub some dirt on it Trae.

— Sam Bal (@balistreri_sam) December 27, 2020
On the other hand, Grayson Allen is infamous for his dirty plays, and one user was specific in pointing it out. In fact, there's a compilation of his dangerous and dirty plays on the court. Watch it below: 
ADVERTISEMENT
Article continues below this ad
Coming back to the Trae Young foul, another user on Twitter posted a valuable clip in the comments section which shows Allen attempting to trip Young off his balance twice. 
ADVERTISEMENT
Article continues below this ad
The game ended shortly after the moment, and the Hawks ran away with victory. Trae Young led all scorers with 36 points to his name and had the last laugh against his opponents.