'Turned Into a Different Animal': Former Rival Validates Last Dance's Claims on Michael Jordan
Published 02/04/2021, 7:00 AM EST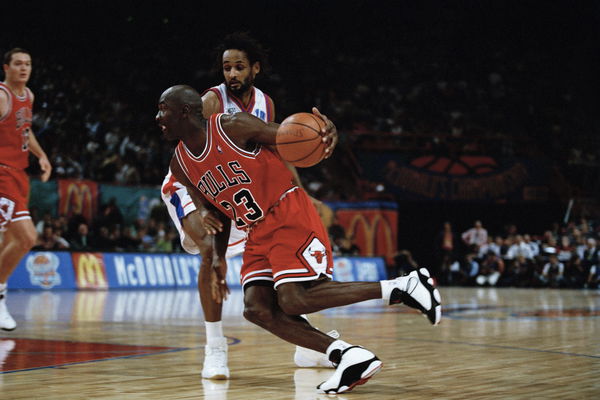 ---
---
Michael Jordan, in his 16-year-old career, was a walking highlight reel. If someone picks any game of Jordan, they are bound to see some astounding plays by the GOAT.
ADVERTISEMENT
Article continues below this ad
In his illustrious career, MJ has posterized multiple players with his vicious dunks. But only a few top the moment when Jordan dunked on former Nets' guard Kendall Gill in the first round of the Eastern Conference playoffs.
ADVERTISEMENT
Article continues below this ad
The Nets had a real chance to steal a game from MJ & Co, who were sloppy throughout. But ultimately, Jordan came through and had this clutch play to extend Bulls' lead in OT.
The veteran guard recently made an appearance in the Porter Way Podcast. When asked how who would he prefer to fight in the boxing ring, Gill only had one name: Michael Jordan.
He said, "I probably get in the ring with MJ because he dunked on me one day in the playoffs and I don't know if you guys saw the last dance, but he dunked on me in the playoffs."
Former Nets' guard opens up about how competitive Michael Jordan was
Despite being rivals on the court, MJ and Gill shared a good relationship with the Bulls' legend. Gill, in the podcast, revealed a story about how competitive Jordan really was.
ADVERTISEMENT
Article continues below this ad
He said, "All that stuff about MJ is true, man, about how his competitive spirit, he's a friend of mine. I remember one day, we were playing cards at my house, and I was beating him out of his money, we playing tough. "And it was about 11 o'clock at night. This dude would not leave my house until he won his money back. He ended up he ended up leaving my house at 7:30 in the morning."
ADVERTISEMENT
Article continues below this ad
He added, "MJ is a nice guy. Good guy, you love him, you know, but he just turned into a different animal when he's competing at something. And I think to answer your question, that's the only time that he gets really intense is when he's competing at something."
Jordan was driven by his competitive spirit, and if not for his hunger to win, we might not have seen the enormous success MJ had in his career.