Twitter Declares Hornets' LaMelo Ball a Clear Winner in His Debut Faceoff Against Brother Lonzo Ball
Published 01/08/2021, 11:09 PM EST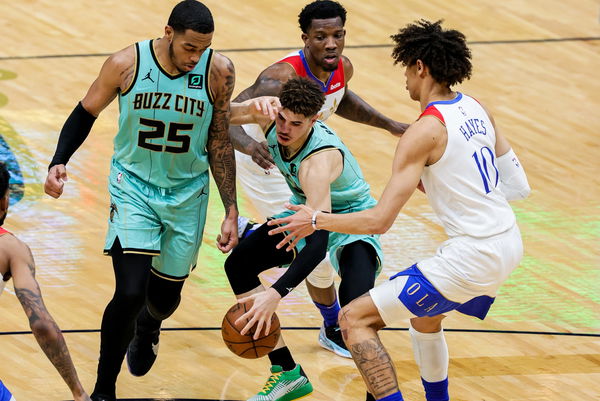 ---
---
Those who have watched the Hollywood movie Warrior (2011) will understand how Lonzo Ball was Tom Hardy and LaMelo Ball was Joel Edgerton in Pelicans vs Hornets. The two brothers faced one another for the very first time in their professional careers, and it was worth watching them.
ADVERTISEMENT
Article continues below this ad
Even before the match could start, there was a lot of hype about the two clashing. Previously, just 4 games into the league, LaMelo had become the only player after Lonzo (2017) to score north of 20+ points, 8 rebs, and 5 assists within the first four games. All these stats increased the hype for a potential one-on-one battle between the brothers.
Pelicans' Lonzo Ball vs Hornets' LaMelo Ball
ADVERTISEMENT
Article continues below this ad
The two prodigies met with each other to shake hands prior to the game. They posed for a picture-perfect memorable click and perhaps wished each other luck.
Little did Lonzo Ball know how he will be dominated by his younger sibling. LaMelo finished off at the rim with Lonzo guarding him, and the freshly drafted rookie took a step-back three over him. All this fed Twitter with enough news to form a popular opinion. 
Lonzo Ball pussy footing around again, looking like a sad puppy as usual. That fool is more emotional than a female when her monthly FRIEND is back to visit. Did he at least go hug his brother?

Bismack Biyombo good job with trying to keep Lamelo Ball grounded & professional. https://t.co/pFFuTTTOB3

— "THE CODE IS THE LEADER" – Mike B (@CantMuteDOAS) January 9, 2021
I can't stand them bro. I believe lamelo will be a star but Lonzo forever avg

— Pace Pettit (@caniPETTIT) January 9, 2021
How Lonzo going to let LaMelo almost get a triple double off the bench 😂

— Toe-Fur 👻 (@toefur13) January 9, 2021
LaMelo was just one assist short of recording a triple-double in his 9th NBA game. He scored 12 points, 11 rebounds, and 9 assists at 4/12 from the field and 1/5 from the three-point range. These are still not very efficient numbers, but for a rookie to come off the bench and put on one such show is definitely commendable.
What can the fans expect from the two brothers in the future?
In a recent interview, the reporter had asked Lonzo whether he will use some trash talk against his younger brother. He had politely responded, "No, I'll just play my game. Wherever coach puts me, I'll do the best I can."
Well, after today's 118-110 loss after dominating the game initially, it is certain that Lonzo would consider changing his tactics against the rising sensation in his brother. Lonzo looked very rusty in the game with a slow start and a very poor efficiency from downtown.
ADVERTISEMENT
Article continues below this ad
LaMelo is continuously succeeding in showing his playmaking ability with those creative passes. His offensive possessions are a treat to watch because he always surprises his opponents.
That being said, he still has to work on his jump shots. On the other hand, Lonzo is lacking the kind of consistency it will take for him to become a regular starting member of his team.
LaVar's weapons are doing good, but they still need to deliver a lot in order to make a name for themselves.
ADVERTISEMENT
Article continues below this ad
Read Also – WATCH: Pelicans' Zion Williamson Unleashes Aerial Attack on Hornets' Defense