Twitter Demands Bradley Beal Trade After His 47 Points Against Pelicans Became As Good As Zero
Published 01/28/2021, 12:48 AM EST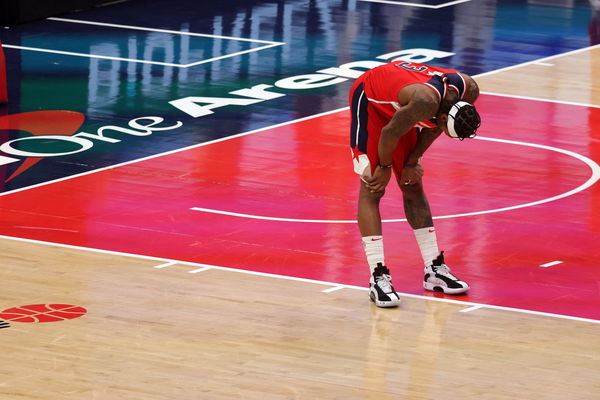 ---
---
Bradley Beal is a lone warrior, a true gladiator carrying a load of an entire kingdom with no support whatsoever. He has exposed the Washington Wizards' weaknesses by actually performing for them. It can't be a fluke that a man is consistently performing at the highest standards, and it can't just be bad luck that his team is still losing. 
ADVERTISEMENT
Article continues below this ad
The 6' 3" shooting guard is averaging close to 35 points in every game while staying associated with a team with the worst record. This combination can not run for long because it is unsettling to witness such an All-star talent getting squeezed in a wasteland (at least as of now). He deserves a wonderland, and NBA Twitter is letting their voices heard now.
Twitter wants Bradley Beal traded from Washington Wizards
ADVERTISEMENT
Article continues below this ad
The world wants to see this trade now more than ever. This trade is already the hottest discussion in the NBA fraternity and it can soon take shape. His performances getting wasted are so unsettling that his wife too reacted to the latest loss. Take a look –
Bradley Beal has already given 8+ years of his career to the Wizards, and there's only so much he can do. Just like John Wall, it is now just a matter of time that this talent will step out for a championship run. 
The loss against Pelicans enshrined him in record books
Beal's 47-point performance became as good as zero after their huge loss against the Pelicans. Still, he etched his name in the record books for losing the most number of straight games after scoring 40+ points.
The Real Deal converted six three-pointers and took 37 FG attempts to score his 47. Apart from him, just two players could touch the double-figure in the Russell Westbrook-less Wizards squad.
ADVERTISEMENT
Article continues below this ad
The 32-point performance from both Zion Williamson and Brandon Ingram, coupled with great defense from JJ Redick and Nickeil Alexander-Walker, helped the Pelicans easily defeat the Wiz.
After this nasty heartbreaking loss, Bradley Beal must be eyeing future offers from the likes of Miami Heat, Milwaukee Bucks, GSW, or LA Clippers.
Which team do you think deserves this golden boy? Help us know in the comments.
ADVERTISEMENT
Article continues below this ad
Read Also – NBA Rumors: Stephen A. Smith Suggests a Wild Bradley Beal-LA Clippers Trade