"Two Clowns That Need to Be Traded": Former Enemies Spending Christmas Eve Together Leaves Lakers Fans in Splits
Published 12/25/2022, 12:28 AM EST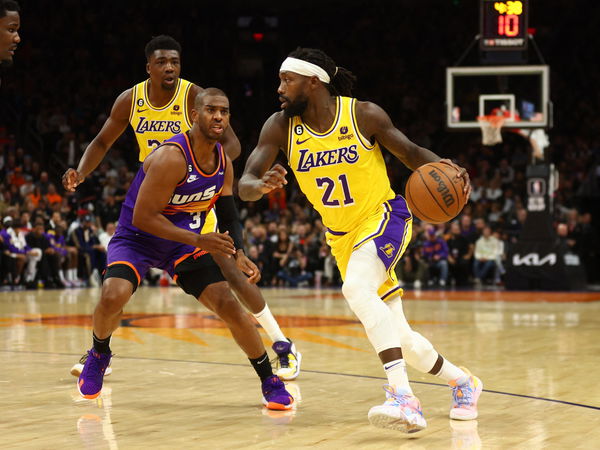 It seemed like a Christmas miracle for Los Angeles Lakers fans after a particular 34-year-old NBA star informed them of his Christmas Eve plans. Apparently, the Lakers point guard had dinner with one of his teammates who, notably, used to be his former nemesis. The decade-long feud between Patrick Beverley and Russell Westbrook might have just come to a complete end. However, that was entirely different from what fans were really focusing on.
Beverley had been at odds with fellow teammate Westbrook for as long as fans can remember. The situation turned even more awkward when Beverley joined the Lakers this season. However, it seems like both stars are seemingly on good terms with each other and have decided to bury the hatchet for good.
Patrick Beverley spends Christmas Eve with Lakers teammate Russell Westbrook
ADVERTISEMENT
Article continues below this ad
The rivalry between Patrick Beverly and Russell Westbrook started way back in 2013 and continued for several years. At the time, no one would have ever thought that the duo would end up spending time together as teammates. According to a tweet by Beverley, the two NBA stars ended up having dinner together and the irony was not lost on Beverley.
In the caption, the 2012 EuroCup MVP wrote, "Funny how life works. Just finished Christmas Eve dinner with @russwest44″
However, Twitterati was focused on a whole other matter. Ahead of the trade deadline, Lakers fans made it clear that they wanted both Beverley and Westbrook off the team.
Here are some of the reactions from NBA Twitter:
We don't care, we want y'all both off the team 🤷🏾‍♂️

— Maybe: Keem 🥷🏾🥷🏾 (@legendarykeem) December 25, 2022
Who knew you and Russ would have a bromance

— Bob said (@bemorelovely) December 25, 2022
While the Lakers are yet to confirm the news, a source told Sean Deveney from Heavy of the franchise's plans to acquire Duncan Robinson. However, the trade would require the Lakers to "eat" the remaining four years of Robinson's $90 million contract.
ADVERTISEMENT
Article continues below this ad
Duncan Robinson from the Heat (could make sense)…Miami could use a little of Beverley's toughness. They've (the Lakers) been willing to give up on this year to preserve some chance at a future, though, and I'd expect them to continue with that approach, which means not dealing Beverley for a long-term contract," the source reportedly said.
The incident that started the Pat Bev-Russ feud
In 2013, Russell Westbrook's Oklahoma City Thunder faced Patrick Beverley's Houston Rockets. As the game progressed, Russ dribbled the ball to the sidelines in an attempt to call a timeout. However, Beverley had other plans in mind. During the second quarter, the former Rockets player made a dive for the ball and hit Russ in the process. Despite being struck in the leg, Westbrook finished the game by defeating the Rockets. Tests showed Russ sustaining a torn meniscus that needed three surgeries. This incident was the root cause of their feud which remained for several years until Beverley joined the Lakers in 2022.
ADVERTISEMENT
Article continues below this ad
WATCH THIS STORY – Russell Westbrook, Kawhi Leonard, and other players who have signed with Jordan
Do you think both Westbrook and Beverley should be traded from the Lakers? Let us know your thoughts in the comments section below.