"Two Goats": Upcoming Documentary Featuring Kobe Bryant and Kevin Durant's Rucker Park Heroics Leaves NBA Fans Off Their Seats
Published 05/31/2022, 2:47 AM EDT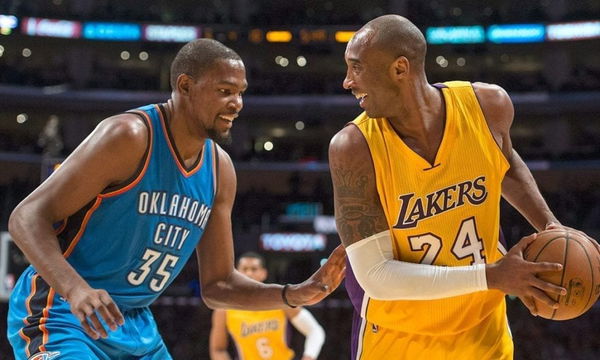 Recently, ESPN announced that they were going to release 'The Greatest Mixtape Ever'. It would revolve around streetball and legendary parks such as Rucker Park. The fans would have a chance to witness the young days of legends such as the late Kobe Bryant and Kevin Durant.
Rucker Park had courts where basketball players used to engage in street-style basketball before entering the NBA. Many people consider it to be a Mecca of basketball that has witnessed players such as LeBron James, Kobe Bryant, Kevin Durant, Jamal Crawford, Joakim Noah, Vince Carter and Lamar Odom.
ADVERTISEMENT
Article continues below this ad
About the ESPN documentary
'The Greatest Mixtape Ever' is the next installment in the Peabody and Emmy award-winning 30 for 30 series. The date for the release of this documentary is May 31st, and people can watch it on ESPN. The documentary will be narrated by rapper Jadakiss and feature interviews with NBA stars such as Iman Shumpert.
Chris Robinson is the director of the documentary, and while talking about the documentary, he said,
"This moment in time is an extraordinary piece of culture, and its impact in the worlds of music and sport is undeniable. These were giants of sport that came together from different neighborhoods and elevated not only basketball but the spirit of the community."
What do the fans have to say about Kobe Bryant and Kevin Durant at Rucker Park?
NBA fans would have a chance to witness legends such as Kobe Bryant and Kevin Durant in their youth engaging in street-style basketball. 
Rucker Park KD is the GOAT

— Venkatesh (@venkshen) May 30, 2022
Kobe went to Rucker park. Remember that

— The Flaneur 🇺🇸🇵🇦 (@RespectedShootr) May 29, 2022
ADVERTISEMENT
Article continues below this ad
Kobe "Lord of the Rings" Rucker Park

— FlawdaGata (@AirFlawdaJordan) May 31, 2022
Many have witnessed Kevin Durant in Rucker Park and they do remember how dominating he was. He dropped 66 points when he was just 23, which explains his legacy in the park. Watching him play again is just going to be a treat for them. Even Kobe Bryant's part in the trailer has fans on the edge of their seats. 
ADVERTISEMENT
Article continues below this ad
Watch this story– The King of the NBA links with the Knight of F1 as LeBron James & Lewis Hamilton Party in Monaco
The documentary is all set to be released, and fans don't really need to wait very long. Let us know in the comments what you think about the documentary.