Tyrese Haliburton Reveals How Damian Lillard Gave Him a 'Welcome to the NBA' Moment
Published 01/20/2021, 2:20 PM EST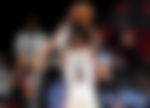 ---
---
Damian Lillard is one of the best point guards in the NBA right now. The Portland Trail Blazers star has impressed several competitors with his talent, and his half-court shots are a thing of beauty. Sacramento Kings rookie Tyrese Haliburton recently informed how he witnessed Lillard's work of art when guarding him.
ADVERTISEMENT
Article continues below this ad
How Damian Lillard impressed rookie Tyrese Haliburton
NBA rookies learn their lessons the hard way, and that was the same with Tyrese Haliburton as well. Playing against NBA athletes for the first time can be demanding, and Damian Lillard ensured he mesmerized Haliburton with his shooting arm. 
ADVERTISEMENT
Article continues below this ad
Kings' Haliburton recently joined JJ Redick's podcast, where the NBA veteran asked the rookie to mention if he had encountered any 'Welcome to the NBA' moment thus far. The Iowa State alum couldn't help but reveal 2 moments that had him scratching his head. 
Haliburton narrated the first incident and mentioned how the Kings blew a comfortable 20-point lead against the Toronto Raptors.
Sacramento ended up losing the game by a double-digit margin and Fred Van Vleet's brilliance left the 20-year-old gasping for breath. 
Damian Lillard starred in the second incident as it was a classic example of 'Logo Lillard.' Here's how Haliburton put it in his words, "We played the Trailblazers the other day.
"They beat us bad then they played us again and Dame, they told me the pickup spot was 40 [feet], like pick him up at 40. And he [Lillard] shot it from half-court and I said, 'Coach I know you said 40, but he just shot it from 50.
"I don't know what you want me to do here.'"
Haliburton is a talent for the future
Tyrese Haliburton is proving to be a valuable pick, as his shooting skills are impressive. His numbers aren't off the charts, but the shooting guard has a lot of scope to improve. 
ADVERTISEMENT
Article continues below this ad
Haliburton is averaging 11.1 points and 5.3 assists through 12 games in the regular season, and the youngster looks like he's hungry for more.
Furthermore, he is quite the standout in his draft class and his 51.0% three-point accuracy is the 3rd-best when it comes to his rookie leaders.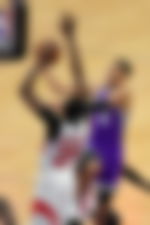 Haliburton has a wonderful shooting arm and can knock down long-range efforts with ease. He just requires some time to adjust to the intensity of the league, and the Kings will have a solid player on their hands!
ADVERTISEMENT
Article continues below this ad