'Unbelievable Career': Brooklyn Nets' James Harden Gives Account of His Excitement Before Playing Rockets
Published 03/02/2021, 7:30 AM EST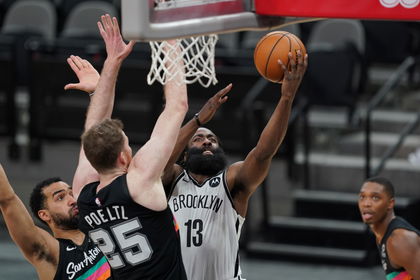 ---
---
The Brooklyn Nets were on a winning spree before Luka Doncic pulled the brakes on them. However, they quickly bounced back and recorded another win as they defeated the Spurs 124-113 in OT. 
ADVERTISEMENT
Article continues below this ad
It was a complete James Harden show at the AT&T Center in Texas. The 31-YO led the team in every parameter and became the match-winner when it mattered the most in the overtime. Now, the next game for the Nets is against the Rockets and this outing will be an emotional affair for 'The Beard'.
ADVERTISEMENT
Article continues below this ad
James Harden on playing his former team
'The Beard' spent eight entire seasons representing the Rockets and played one of the best years of his basketball career there. He left the franchise on an arguably negative note, but nothing can diminish the fact that their union benefitted both parties for all those glorious years. 
In the post-game interview after beating the Spurs, James Harden first discussed their comeback in the game and exclaimed, "I wanted to be a little more aggressive in that fourth quarter, get shots for myself and my team, just take the pressure out… You win one quarter, you win the game… made some big shots towards the end…"
Then the 9x NBA All-star expressed his excitement before the Rockets game, "Then as far as Houston, yeah I'm excited. Just to go back to Houston, where I obviously had an unbelievable career there. They showed me mad love and respect. I'm excited to be playing in front of fans." 
It will be interesting to see how the Houston fans might or might not welcome James for all the tantrums he pulled before forcing himself out of the team. 
ADVERTISEMENT
Article continues below this ad
What does the Brooklyn Nets' win over Spurs mean for them?
Before the NBA All-star break, the Nets will want to sit on the top of the EC rankings. Now, they next face a weak competitor in the Rockets who have recently hit a dozen straight losses. On the other hand, the Sixers will face the challenge in WC toppers Utah Jazz who have received a fresh wound against the Pelicans. So if the Sixers lose, the Nets will take the peak position even with Kevin Durant missing 11 of the last 12 games. 
In the game against the Spurs, James Harden's 30-point triple-double and 2 steals ensured that he covered up for the struggling Kyrie Irving. The latter had a 27-point game, but he missed a clutch layup that allowed Dejounte Murray to level the score and force an OT. But later, the Nets outplayed the Spurs as a unit and showed they can dominate even when a Big Three member is out of play.
ADVERTISEMENT
Article continues below this ad
Read also – Nets' James Harden Joins LeBron James, Chris Paul, and John Stockton in an Elite NBA Record