'Unbelievable' – NBA Legend Vince Carter Humbled By Kevin Durant Calling Him His Favorite Player
Published 04/16/2021, 6:30 AM EDT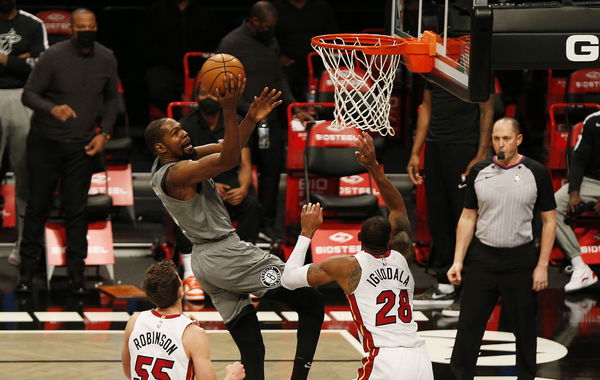 ---
---
Kevin Durant is one of the greatest stars in the history of the NBA. The 2014 MVP has been in the NBA for almost 15 years and has revolutionized the game. Durant is one of the most exciting players to watch in the NBA, and one of the most gifted scorers. And it appears he was inspired by one of the NBA's all-time great – Raptors' legend Vince Carter. Now, Carter has responded to his admiration.
ADVERTISEMENT
Article continues below this ad
Vince Carter honored by Kevin Durant
Former NBA All-Star Vince Carter reacted to Kevin Durant calling him his favorite player. Carter was honored by Durant expressing his admiration. He also spoke about how he believes that Durant has far exceeded expectations, especially given how many doubts there were about him early on.
ADVERTISEMENT
Article continues below this ad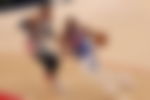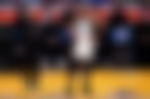 Carter said, "It's an honor. I've watched Kevin, going against him and everything. And just think back to his career… I heard whispers, I was like 'okay, you know he's a fan, oh I'm his favorite player, okay cool'. People say that. And then to actually hear from the horse's mouth, it's unbelievable. And getting the opportunity to play against him, watching him as a rookie and remember hearing how they said could he survive in the league because he wasn't strong enough."
Durant continues to improve
Carter added that Durant has been able to grow beyond everyone's expectations and become one of the greatest scorers in the NBA. He noted that Durant is a player who can do everything on the offensive end, and work extremely hard. Durant has developed a lot of moves, and his development has been a joy to watch over the last few years. Carter was happy to see him become a champion and continue to get better.
ADVERTISEMENT
Article continues below this ad
Carter said, "To watch him grow into the best scorer in the game's history. I mean offensively, what can he not do? He could do it all. At one point it was like 'oh, he can only go left in the hesitation and the scouting, that's what you guard him on'. And now, he can go right, he can go whatever he wants, he'll pull up, he can shoot. He can do it all, so it's just been great to see him mature, grow and become a champion and do it his way."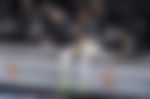 Is Kevin Durant the greatest scorer in NBA history? There is a great argument to be made for the case. However, Durant's career is still not over, and he could do enough to put an end to any argument against him. Even this season, KD is averaging ridiculous numbers, while trying to lead the Brooklyn Nets to an NBA title.
ADVERTISEMENT
Article continues below this ad