'Unprecedented' – Carmelo Anthony Reacts to Surpassing Hakeem Olajuwon in NBA All-Time Scoring List
Published 03/14/2021, 5:35 AM EDT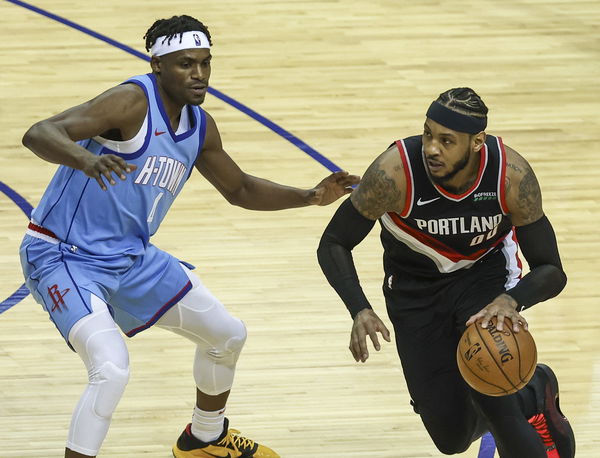 ---
---
Carmelo Anthony is one of the most underrated players in the history of the NBA. 'Melo' has been in the NBA for a long time and has consistently proven himself to be an elite scorer. While his career has seen a lot of twists and turns over the past few years, Anthony has always stayed relevant in the NBA picture. And now, he has cemented his legacy by surpassing another NBA great.
ADVERTISEMENT
Article continues below this ad
Carmelo Anthony surpassed Hakeem Olajuwon
Carmelo Anthony scored 26 points against the Minnesota Timberwolves tonight. This tally puts him ahead of Hakeem Olajuwon on the NBA all-time leading scorers list. Melo was very happy with the record he just broke but emphasized that he just wants to be there. Anthony is still just happy to be playing in the NBA today.
ADVERTISEMENT
Article continues below this ad
"I'm still here. I'm still playing, I'm still enjoying the game, I'm still happy. That's all that matters. We all know what Hakeem did to the game, for the game. The mark he left on the game will be unprecedented. I'm just happy to be here. I'm still here, man. That's all that matters, I'll continue to play, I'm still here and I'm still climbing."
Anthony is one of the most elite scorers to take the court in NBA history. Carmelo was part of the historic 2003 NBA draft class, which included LeBron James, Dwyane Wade, and Chris Bosh. Anthony was selected as the number three draft pick and went to the Denver Nuggets. Anthony quickly established himself as one of the most exciting players in the league.
Melo having a career resurgence
Anthony then went on to play for the Knicks, where he became one of the best players in the Eastern Conference. After his stint in New York, he had poor, short-liver periods with Oklahoma City and Houston. After his stock fell because of these stints, he signed a non-guaranteed contract with the Portland Trail Blazers. He established himself as a solid bench player, contributing big minutes.
ADVERTISEMENT
Article continues below this ad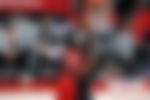 Will Carmelo Anthony enter the Hall of Fame one day? Despite never winning an NBA championship, Anthony is regarded as one of the greatest scorers of all-time. Furthermore, Anthony was part of one of the greatest Olympic teams in history, making up the historic 'Redeem Team' from the 2008 Olympics.
ADVERTISEMENT
Article continues below this ad
Anthony will go down as one of the all-time greats when he calls time on his career.