'Upfront Honest': Pistons' Coach Praises Derrick Rose for Staying Truthful Amidst Trade to NY Knicks
Published 02/10/2021, 9:51 PM EST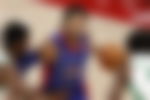 ---
---
In a much-awaited trade, Pistons let go of Derrick Rose to acquire Dennis Smith Jr. and a 2021 second-round draft pick (Hornets). Derrick is back to becoming a New York boy, and that's a big addition to the Knicks' squad. 
ADVERTISEMENT
Article continues below this ad
Derrick last had a stint with the NY-based team in 2016-17 when the Bulls traded him for Robin Lopez, Jerian Grant, and Jose Calderon. As fate would have it, he's back to that old team, perhaps to complete the unfinished business. 
Pistons' coach had some warm words for the outgoing Derrick Rose
ADVERTISEMENT
Article continues below this ad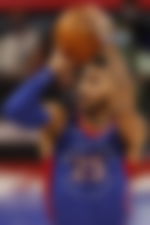 In a recent podcast, Pistons' coach Dwane Casey expressed his honest feelings about the NBA vet. He exclaimed, "Derrek has changed his game. He had to adjust at this stage of his career. We text back-and-forth all the time. Last few days when trade was down, we had great conversations, he was upfront honest, 'coach I'm so, I want to make sure I go to a situation where I can make it to the playoffs this year. I know what you guys are, you're rebuilding, retooling, I just want to go, they have a chance to make to the playoffs."
Certainly, Rose's chances to make it to the postseason will shoot with the Knicks. Tom Thibodeau's team is 11-15, sitting at the 9th position on the table. His reunion with Thibodeau will be another positive for the veteran guard.
Coach Casey later said, "I know his relationship with Thib, Thib started him as a rookie, never gonna change that. So I am happy for Derrek, I was happy they could accommodate him, found him a place where he wanted to go to."
Why did Rose leave the New York Knicks earlier?
D-Rose joined the Knicks and played 64 games for them, averaging 18 ppg. However, he failed to change their fate as the franchise had a 31-51 record that season.
Surprisingly, he took a detour in the mid-season and decided to leave. Later, he told the media that he was not enjoying hooping anymore. 
ADVERTISEMENT
Article continues below this ad
He then became a part of the Timberwolves and the Pistons, the two teams that are both sitting at the bottom of their respective conferences today. 
Lastly, his former coach added, "He came here, a guy from Minnesota, gave a couple of years to reestablish himself into the league as one of the top off the bench scorers in the league. He worked with me and accepted the coaching, here's the guy who's been MVP of the league… He came to work, his body in place, he is going to be a big plus in New York as they go forward."
All being said, do you think he still has the potential to give that 20-point season to the Knicks? Can he do what he could not do with a heavy Knicks roster back in 2016-17? Help us know your views in the comments.
ADVERTISEMENT
Article continues below this ad
Read Also – 'Kristaps Porzingis for Derrick Rose': Twitter Goes Bonkers as New York Knicks Trade for Former MVP