Warriors' James Wiseman Shares Key Advice He Got From Nets' Kevin Durant and Kyrie Irving
Published 04/06/2021, 8:00 AM EDT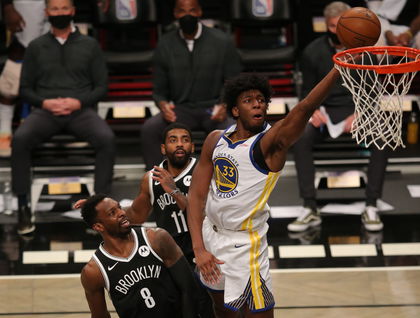 ---
---
James Wiseman was a highly touted prospect when he entered the NBA. And while his progression has been slow, he has shown glimpses of his brilliance. At 7'0″, Wiseman adds great size to a Warriors team that desperately needs it. Right now, it appears that Wiseman is finding his rhythm with the team. And two superstars have been helping him along that road.
ADVERTISEMENT
Article continues below this ad
James Wiseman getting advice from KD and Kyrie
Golden State Warriors center James Wiseman spoke to the press recently. Wiseman mentioned Kevin Durant and Kyrie Irving have been helping him. Irving told him to continue developing and working hard, while KD explained how the Warriors system works and how he could bring the best out of himself.
ADVERTISEMENT
Article continues below this ad
"Kyrie Irving just told me in order to separate myself from my class, I have to have the effort and just keep putting in the work. Just keep putting in more minutes and more hours into my craft. Just work hard every day. I talk to KD every day. We talk about the system, how he was able to fit into the system here. And he just gave me a lot of advice."
Talking to Kevin Durant will be a huge help to Wiseman. Durant himself played with the Warriors from 2016 to 2019, won two NBA championships, and went to three finals. Durant was immensely successful with the Warriors and his advice can help Wiseman greatly. Further, the two players are both of the same size and have many of the same skills, but of course, Durant is a lot more polished in his game.
Wiseman continuing to develop his game
Wiseman has had a decent season with the Warriors so far. He is averaging 11.4 points, 5.8 rebounds, and a block per game. Given that he is only playing about 20 minutes per game, he is putting up strong numbers.
ADVERTISEMENT
Article continues below this ad
Though Wiseman has not been the instant success that the Warriors hoped he would be, the team knows that they have a potential superstar- all they need to give him is some time.
ADVERTISEMENT
Article continues below this ad
Can James Wiseman become the next great Warrior? He has all the tools to reach that level. But he needs to be able to progress well. Right now, he has shown that he is on the right track. The Warriors need to be careful not to rush Wiseman's progression, going forward.