Warriors' Steph Curry Heaps Huge Praise on Celtics' Jayson Tatum and Jaylen Brown
Published 02/03/2021, 7:36 AM EST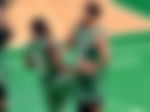 ---
---
The NBA is currently seeing a plethora of young talented players in the league. The Boston Celtics look like the next super team, and they are led by the duo of Jayson Tatum and Jaylen Brown.
ADVERTISEMENT
Article continues below this ad
In this season, the duo has looked unstoppable. Both the players are averaging career highs in scoring and have clearly taken the offensive load on themselves, and Golden State Warriors' Steph Curry is certainly impressed by the same.
In a recent interview, Curry compared how Tatum and Brown's progress is similar to how he and Klay Thompson progressed over the years. He said, "You have two talented guys who have to learn how to play off each other. One guy has got it and the other guy has to learn to stay engaged and vice versa and both elevate yourself in the same process."
ADVERTISEMENT
Article continues below this ad
Curry added, "Understanding how they can get the most out of their individual talent and put it together and balance it with the rest of the guys. There's definitely a lot of similarities there."
The duo of Tatum and Brown has certainly shown promise this season. Are they really the new Splash Brothers in the making?
Are the Celtics a championship contender with Tatum and Brown
The Boston Celtics are clearly a two-man show right now. 4-time All-Star Kemba Walker is back to the starting lineup but is finding his feet on the court.
This has resulted in added pressure on the duo of Jayson Tatum and Jaylen Brown. Tatum, who had an impressive season last year, is averaging superstar numbers at 26.8 points, 3.6 assists, and 7.1 rebounds per game this regular season.
His teammate, on the other hand, has seen a massive jump in his offensive output. Brown might be on his to his first All-Star game appearance as he is averaging 26.6 points, 3.5 assists, and 5.6 rebounds per game.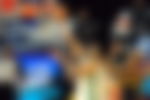 Despite the duo's thunderous form, the Celtics have struggled to keep up with the likes of teams like the Philadelphia 76ers. The support cast has fallen flat for the Celtics this season.
ADVERTISEMENT
Article continues below this ad
New center Tristan Thompson, who was brought in to add some much needed offensive rebounding, has been dismal. His disappointing performances have regressed his role to that of a bench player.
Marcus Smart who showed flashes of being an offensive force in the bubble has also been massively inconsistent. The only positive for the 17-time champions is the return of Kemba Walker. Walker has shown steady progress since his return and will be back to his best soon.
ADVERTISEMENT
Article continues below this ad
The Celtics have two young stars performing at a very high level. If the complementary pieces around Tatum and Brown step up, the Celtics will surely be a championship contender in the East.