Warriors' Steph Curry Opens Up About How He Is Trying To Build The Curry Brand
Published 03/26/2021, 12:26 AM EDT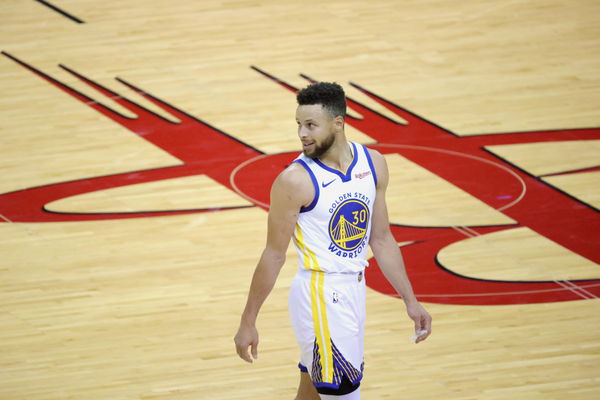 The NBA is built on its exciting brand of basketball and superstars like Michael Jordan, LeBron James and Steph Curry. Ever since the league was exposed to a global audience, stars like LeBron and Curry have become global icons.
Subsequently, the global stardom of these legends has prompted super-brands like Nike and Under Armour to bestow special honors upon them.
It all started when Nike gave MJ his own brand, the ever-popular Jordan brand. Post that, it was Dwyane Wade who followed suit with Li Ning, and recently, Under Armour rewarded Steph with his own Curry brand.
With a product line so diversified, the Curry brand's popularity has soared since its launch back in December.
Steph Curry reveals plans of how he wants to build his brand
Warriors' sharp shooter Steph Curry recently sat for an interview with Slam Kick's Max Reseter. There, the 33-year-old opened up about a host of things. Curry also opened up about his vision for his own brand.
He said, "It's about being a good listener, first and foremost…. Being aware of and appreciative of the platform that I have to be able to highlight amazing people and amazing stories and just collab with so much good positivity in the world."
Curry added, "There's so many opportunities to do that across the board. Within the world of sports, for the next generation, and the corporate world and just all across the spectrum. And for me, I think it kind of came naturally with how I play the game, that we have our mantra 'Change the game for good.' Just trying to blaze my own trail with how I approach within those 94 feet of the court."
He added, "It's the same kind of mindset with people that are overcoming amazing obstacles and odds, to achieving success at the highest level and being able to amplify those stories and those people to the fullest. It's rewarding but also how and why I am in this position to be able to turn amazing things on the court into amazing opportunities and lasting change off the court. So I'm gonna continue to do that."
Steph Curry is certainly changing the whole landscape with his own Curry brand. Under Armour might not be as big as Nike, but given how popular Curry has become all-over the globe, the Curry brand will become yet another super brand by an NBA player.