Warriors' Steph Curry Reacts on His Disappointing Night Against Miami Heat
Published 02/18/2021, 11:27 AM EST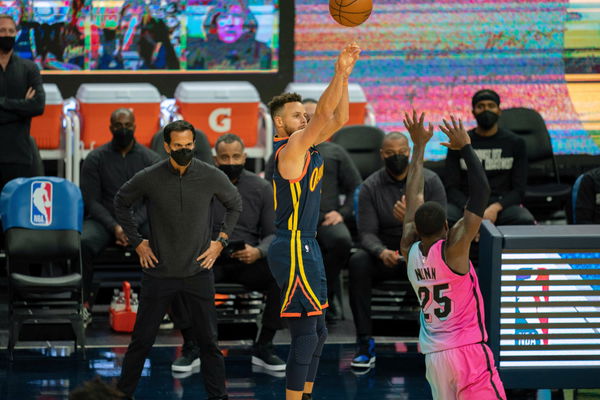 ---
---
As soon as the matchup began, it was clear that this was going to be an uphill battle for the Golden State Warriors. When Draymond Green was listed out because of his sore ankle, everyone thought that Steph Curry would end up scoring more than 40 points in this game. However, that's exactly the opposite of what went down and he had one of his worst shooting performances of this season.
ADVERTISEMENT
Article continues below this ad
But it was the collective effort of the rest of the team that led them to a difficult comeback against the Miami Heat. The match ended with a 12-112 score in overtime.
Steph Curry is not used to nights like these
ADVERTISEMENT
Article continues below this ad
Before the game began, Green ended up joining James Wiseman and Kevon Looney on the sidelines because of injuries. So, with no traditional centers and a thin rotation, the Golden State Warriors already looked like they were in trouble.
In Green's absence, Curry could not keep up his performance and scored only seven points in the first half of the game. He was just out of rhythm from the arc and had only one three-pointer out of nine attempts in the first half. They were actually trailing by 15 points by then. But we all know Curry shows up when needed.
With just 17 seconds left for the buzzer to go off, he dropped a vicious three, which sealed their victory against Heat. Although Curry did have something to say about his disappointing night.
"You play enough games and go through enough experiences. You know what it's like to kind of feel a little lost when shots aren't falling. And you know how you mentally react to it and what you can do to keep your confidence," He stated. "I feel like every shot's going in, and it's a surprise when it doesn't. I am shooting since I was 9. You got to be able to figure out how to get through some bad shooting games."
Kent Bazemore led the way
ADVERTISEMENT
Article continues below this ad
Kent Bazemore was the most important part of the Warriors' comeback. He scored a game-high 26 points, 8 rebounds, and 3 assists. It was his clutch layups in the last quarter that took the game into overtime.
Next on the list were Andrew Wiggins and Kelly Oubre Jr., who also ended the night with 20+ points each. Wiggins had 23 points and 8 rebounds, while Oubre also added 23 points with 8 rebounds.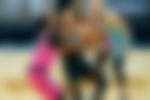 The Warriors are now 16-13, standing seventh in the Western Conference. It was great knowing that if Curry, for some reason, doesn't stand up to the expectations, the supporting cast can always make up for it.
ADVERTISEMENT
Article continues below this ad
Read also- Warriors' Stephen Curry Achieves Epic Streak Last Posted by Michael Jordan