Warriors' Steve Kerr Opens up About His Toughest Loss Ever as a Coach
Published 02/26/2021, 7:30 AM EST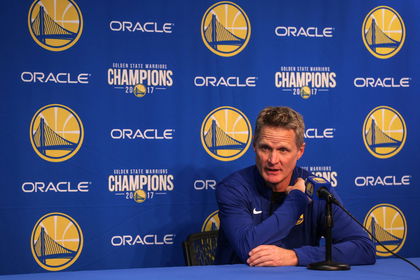 ---
---
The Warriors ended their four-game-away run with a four-point win against the Indiana Pacers, beating them 114-110. In these four games, they had two wins and two losses each.
ADVERTISEMENT
Article continues below this ad
One of these losses came against the Hornets as a Terry Rozier buzzer-beater handed the Dubs their 15th loss. Given that the Warriors were playing without Steph Curry and had a five-point lead with a minute remaining, coach Steve Kerr and the team were devastated by the defeat.
Kerr opened up about the defeat in a recent appearance on the Damon, Ratto, and Kolsky podcast. He said, "To play that game without [Steph] and compete so hard and really be in a position to win and to not win, was devastating, one of the toughest losses I've ever felt as a coach. … That was a long, tough night for everybody."
ADVERTISEMENT
Article continues below this ad
Despite the loss, the Dubs show signs of positivity as players like Kelly Oubre Jr. and Andrew Wiggins had a good game and are finally showing signs of being an able support cast to Steph Curry.
Can this Warriors team make it to the playoffs?
The Warriors initially looked like a team too dependent on Steph Curry's explosive offensive displays for their wins. But now players like Kelly Oubre Jr. have stepped up.
In the last 10 games, Oubre has averaged 19.4 points, 7.1 rebounds, and 1.5 assists per game. With Oubre chipping in on the offensive end, there is certainly less pressure on Curry.
Role player Eric Paschall has been phenomenal and provides a spark coming off of the bench. He is averaging 10.1 points, 3.3 rebounds, and 1.3 assists per game.
ADVERTISEMENT
Article continues below this ad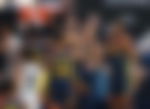 The Warriors also have some consistent performers in Andrew Wiggins and Draymond Green. While Wiggins has shone up as a two-way machine, Green has taken over the reins as the distributor in the team as he has been averaging 10.6 assists, 7.5 rebounds, and 6.5 points in the last 10 games.
The Warriors are finally looking like a cohesive unit with Steph Curry as the key player to the system. In their latest game against the Pacers, the Dubs had a close victory despite Curry hitting only a single three-pointer as the team put up an overall display for the win.
ADVERTISEMENT
Article continues below this ad
Given how this team is developing, they could make it to the playoffs if there is no major injury to their key players.