Warriors' Steve Kerr, Steph Curry and Other Girl Dad's Have Special Words to Commemorate Women's Day
Published 03/09/2021, 4:30 AM EST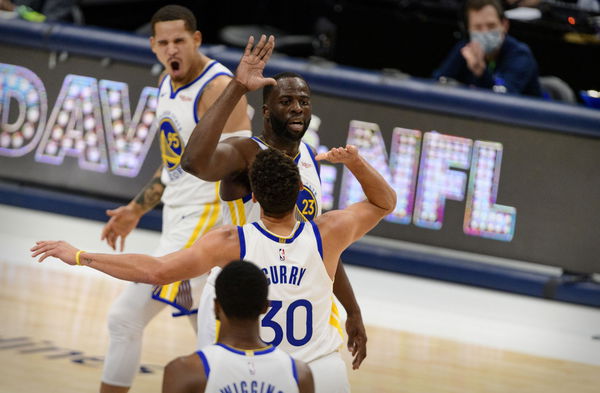 ---
---
The Golden State Warriors' franchise has some proud girl dads that had something really special to say about their daughters on this Women's day. The month of March is in celebration of Women all over the world. Whether it is mothers, daughters, sisters, wives, and friends. However, some Warriors' who are lucky to have girl daughters, spoke up about the beauty of being a father to them. From Steve Kerr's pride to Steph Curry's word of wisdom, this touching tribute has it all.
ADVERTISEMENT
Article continues below this ad
The Golden State Warriors' celebrate their daughter's
On this Internation Women's Day, Steve Kerr, Stephen Curry, and Draymond Green were asked, "What does being a girl dad mean to you?". All three of them had very different and beautiful responses to this question.
ADVERTISEMENT
Article continues below this ad
The Warriors' head coach Kerr, smiled after listening to the question, as if not knowing where to begin. He then said, "Father-Daughter, there is nothing like it. My daughter can do no wrong; no matter what she does. And that's sort of how it works, being a girl dad. You just see all the beauty and all the love in your daughter. It's a pretty special feeling"
In fact, Steve also explained that more than him, it's his daughter that inspires him. "My daughter is getting her law degree. I don't feel like I have to empower her. At this point, I feel like she's the one who's inspiring me and empowering me."
Stephen Curry wants to impart how a man should treat a woman
The Warriors' veteran forward Draymond Green also revealed what makes him happiest and said, "My daughter is six. You know, I try to instill confidence in her and I am proud of that."
Then came their star player, who is also on the proud dad team, had some wise outlook on this. "Being a girl dad is just leaning in to being present, being available," he explained. "Being a vision of how a man should treat a woman. I think for us, we have to be that model."
"The smile on your daughter's face when you walk in the house or when you pay attention to something that they're interested in… It opens up a different side of you. It's the best thing in the world."
ADVERTISEMENT
Article continues below this ad
Along with their lovely dedication to their daughters, a montage of their moments together also played back in the video. This tribute would have anyone emotional and send out the message that women are important not just on this day but every day.
ADVERTISEMENT
Article continues below this ad
Read also- Stat Reflects That Steph Curry Has Been Saving the Golden State Warriors From Yet Another Embarrassing Season