Warzone Journalist Admits Surprise Meeting With Shaquille O'Neal Was Tougher Than Interviewing Pakistan PM Imran Khan
Published 06/07/2022, 5:30 PM EDT Shaquille O'Neal is undoubtedly one of the biggest names in the NBA. Thanks to his exploits on the court, and his achievements outside of it, Shaq is a household name across the world.
Recently, he met an award-winning journalist randomly. Eminent journalist Muhammad Lila happened to be in San Francisco when he met Shaq. Interestingly enough, Lila revealed that this meeting with Shaq was special for a reason.
ADVERTISEMENT
Article continues below this ad
Today, I randomly ran into Shaquille O'Neal.

I thought I'd ask him for a selfie. Instead, he taught me a lesson about fatherhood.

A thread 🧵 pic.twitter.com/J2eXaTZ0PQ

— Muhammad Lila (@MuhammadLila) June 2, 2022
Lila has met celebrities and public figures all over the world, but he never happened to take a selfie with them. This time it was different. He took a selfie with Shaq and also had a conversation with the NBA legend.
While Lila finished a tough call, he noticed Shaq in the hotel lobby. The journalist revealed that he found it tough to approach Shaq and that it was tougher than interviewing Imran Khan, the Prime Minister of Pakistan.
After a few failed attempts at taking a selfie, Muhammad Lila asked Shaq a very important question. He asked for some parenting advice when Shaq said, "That's your job. You're the dad. That's what I had for me." That is some pretty great advice coming from one of the biggest names in the world of sports.
How is Shaquille O'Neal as a father?
There is no denying Shaquille O'Neal is one of the greatest NBA players ever. He has four NBA titles to his name with the Los Angeles Lakers and the Miami Heat alongside numerous individual accolades.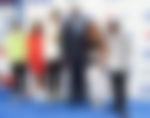 Moreover, he is a great parent too. Shaq is a father of six children and he makes sure they complete their education and learn to be good human beings. Although Shaq has one of the highest net worths in the basketball world, he never lets his children take money for granted.
ADVERTISEMENT
Article continues below this ad
He once talked about how he schooled his son for getting a bad grade and making silly excuses. Shaq said, "I expect them to do their best. My son got a D on a paper one time, and he said he couldn't find the information. I went off."
WATCH THIS STORY: WARRIORS VS. CELTICS GAME 2 HIGHLIGHTS
ADVERTISEMENT
Article continues below this ad
What do you think about Shaquille O'Neal's interesting parenting style? Let us know in the comments below.