'Was On My Wall'- LeBron James Reveals How He Idolized Kobe Bryant Growing Up
Published 01/21/2021, 11:17 PM EST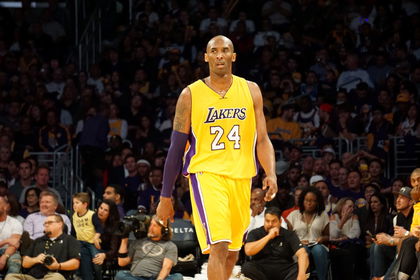 ---
---
LeBron James and Kobe Bryant shared the kind of relationship that many stars in basketball do. Michael Jordan was Kobe's spiritual elder brother on the court. It seems fitting that Kobe was ultimately LeBron's elder brother, a bond they formed when they played for Team USA in the Olympics together.
ADVERTISEMENT
Article continues below this ad
However, the admiration for Kobe was nothing new for LeBron. While we know LBJ grew up a Michael Jordan fan, which is why he wears the number 23, we sometimes forget that Kobe played in the NBA for 7 seasons before LeBron made it in.
That means LeBron started watching Kobe play when he was 11 and watched him win his first championship when he was 15. Naturally, LeBron had a collage paying tribute to Kobe hanging in his childhood home in Akron, Ohio.
ADVERTISEMENT
Article continues below this ad
LeBron on what he remembers from the first time he played Kobe: "I was just in awe. It's a guy who along with a lot of other guys that was on my wall. … He had a nice collage on my wall."

— Ryan Ward (@RyanWardLA) January 22, 2021
LeBron and Kobe would play together in the league for 13 years. While they never met in the NBA Playoffs, they went to 11 NBA Finals in that time. Kobe made it in 2004, 08, 09, and 10. LeBron did it in 2007, 11, 12, 13, 14, 15, and 16.
LeBron James and Kobe Bryant: The Lakers connection
While LeBron James and Kobe never met in the Playoffs because one of their teams would always get eliminated when the other went to the Finals, they do have something that eventually united them. LeBron joined Kobe's LA Lakers in 2018 to build his legacy along with the one that Kobe had already built.
ADVERTISEMENT
Article continues below this ad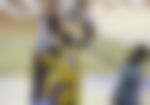 Kobe passed away last January and was not able to watch LeBron bring a championship back to the STAPLES Center. Nonetheless, the spirit of Kobe is what drove this LA team to success.
They paid tribute to the Mamba every chance they got, from special jerseys to even making 'Mamba' their battle-cry. The love for Kobe was immense, and the Lakers happily shared it.
ADVERTISEMENT
Article continues below this ad
Kobe Bryant was the most competitive player on the court, but as he got older, he shared the love with a lot of young players. But before Kobe had a chance to mentor Jayson Tatum or Devin Booker, he built a relationship with LeBron James. GOATs recognize other GOATs.