Washington Wizards 2021–22 NBA Roster: Can Bradley Beal Lead His New Look Team to Glory Sans Russell Westbrook?
Published 08/13/2021, 1:23 AM EDT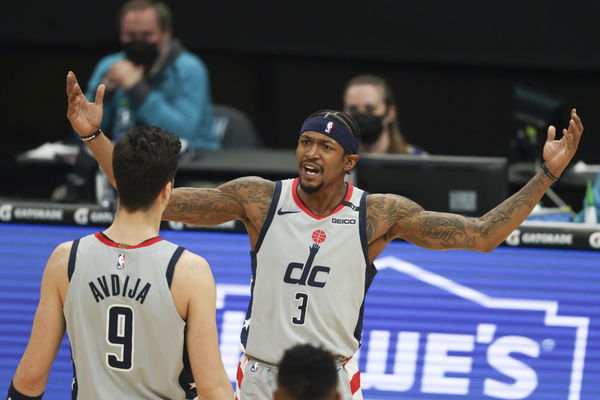 ---
---
The Wizards are struggling as a franchise for the past four decades now. Last year, they believed all the misfortune would end with the acquisition of Russell Westbrook. Turned out just two dependable players could push them only so far, and they lost in round 1. 
ADVERTISEMENT
Article continues below this ad
Season 2020-21's slow start and early elimination rang a bell in their GM's ears as he turned the unit upside-down in the off-season. Tommy Sheppard knew that the organization had already lost a franchise face in John Wall, and he certainly did not want to lose Bradley Beal. So he built the best possible roster that might support Beal's vision.
ADVERTISEMENT
Article continues below this ad
Incoming players
Spencer Dinwiddie
The Wizards dealt with the Nets and signed Dinwiddie on a $54 million three-year contract. They sent out a 2024 second-rounder and a 2025 round 2 pick swap to close the deal. Dinwiddie would also receive a bonus amount if he keeps himself injury-free and plays 50+ games. Funny enough, his promised bonus after a title win is just a dollar.
Kyle Kuzma, Kentavious Caldwell-Pope, and Montrezl Harrell
The Lakers gave away their #22 draft pick and their trio in Kuzma, KCP, and Trezz so as to acquire Russell Westbrook. This has essentially given the Wizards two NBA champions and a big bench player in Harrell. With Kuzma itching to deliver as a starting forward and KCP aiming for a season of redemption, their match with Beal would be juicy.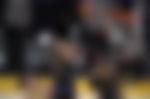 Aaron Holiday
The Wizards gave away their #22 pick in Isaiah Jackson to the Pacers and got back Aaron Holiday and #31 Isaiah Todd in return. Although not very good at ball distribution, Holiday can still help the Wizards' offense with his shooting. 
Corey Kispert (2021 Pick #15)
Jay Huff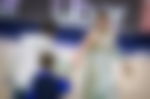 Outgoing players
Russell Westbrook 
The Wizards have now lost their Mr. Triple Double and would hope that their new starting lineup will make up for the loss. Filling in Russ' shoes would not come easy for Wes Unseld, but good chemistry would do wonders.
Ish Smith (Hornets)
The Charlotte Hornets have signed Ish Smith in free agency on a one-year $4.6 million deal with an option in the second year. A robust backup point guard, Ish can play a crucial role for the Hornets.
Isaac Bonga (Raptors)
As an unrestricted free agent, Bonga is now joining the Raptors after the Wizards declined to match the offer. He had a poor playoff run and saw a decrease in his performance in this last season.
Caleb Homesley
Although the Wizards showed faith in undrafted Caleb last year, they've waived the G-League player as of now. They must've cut him to save some cap space. However, he was listed on the team's Vegas Summer League roster.
Robin Lopez (Magic)
Chandler Hutchison (Spurs)
Washington Wizards 2021-22 NBA Roster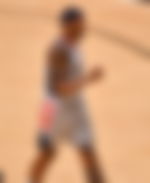 Frontcourt
Deni Avdija
Davis Bertans
Thomas Bryant
Rui Hachimura
Montrezl Harrell
Kyle Kuzma
Alex Len
Daniel Gafford
Anthony Gill
Jay Huff
Corey Kispert
Isaiah Todd
Backcourt
Spencer Dinwiddie
Aaron Holiday
ADVERTISEMENT
Article continues below this ad
Raul Neto
Garrison Mathews
Cassius Winston
ADVERTISEMENT
Article continues below this ad
With a new coach, a revamped roster, and some former champions, the Wizards are now positive that they'll make an impact. What do you think of their chances? Help us learn in the comments section below.
Watch this story – Kyle Kuzma, Ben Simmons, and Other NBA Stars Who Had a Poor 2020-21 Season