Wizards' Bradley Beal Drops 60 Bombs on Sixers and Sets a Unique Franchise Record
Published 01/06/2021, 9:54 PM CST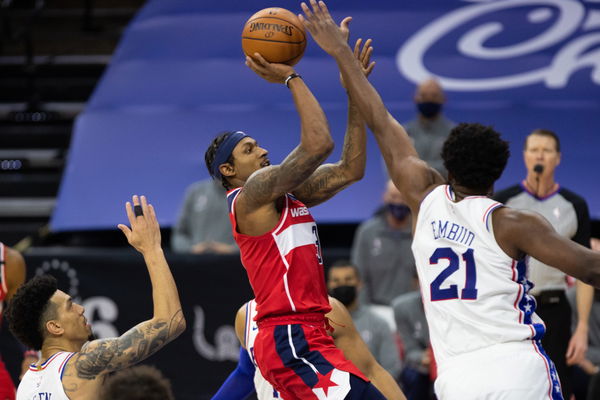 ---
---
It has just been a fortnight since the season resumed and the NBA world has already witnessed some insane individual performances. The latest addition to this list of exceptional performers is the Washington Wizards' Bradley Beal. 
ADVERTISEMENT
Article continues below this ad
When the Sixers entered this game, they had a clean 4-0 record on their home court. However, that attracted a formidable challenge from Bradley Beal who seemed possessed with the spirit of Wilt Chamberlain.
Meaning to say, it appeared as if he will single-handedly drop enough points to match numbers worth of three whole quarters. To everyone's surprise, that failed to happen because the Wizards let all the efforts go down in a drain in the decisive quarter.
ADVERTISEMENT
Article continues below this ad
Bradley Beal and his unnerving shooting
By the end of the third quarter, the Big Panda already had 57 points under his kitty. He was charging guns from the three-point range with 7/8 converted attempts.
The 27-YO was shooting 65% from the field prior to the last quarter. All that helped him to break a rare franchise record. He left legend Gilbert Arenas behind with his wondrous performance.
Also, this was his career-high performance that again tied with that of Gilbert's. Beal certainly has his name etched in the golden history of the Sixers with this performance.
His offensive production has always been at par with expectations. The Dr. Dre of NBA was already averaging 30+ since the last season itself. He continued the skyrocketing career-high performance this year as well, recording 30.6 points, 5 boards, 4.7 assists, and 1.6 steals in the first 7 games. These arguably are the figures of someone who can stretch to compete for the league MVP position.
ADVERTISEMENT
Article continues below this ad
The black magic working against the Wizards still prevailed
The Wizards are arguably the most unfortunate side in the league right now. They house two of the most consistently performing assets at their disposal, but all in vain. The back-to-back triple-doubles from Russell Westbrook and the phenomenal shooting from Beal have not converted into Ws for the side.
In this particular game, Sixers' Seth Curry and Joel Embiid played the spoilsport against the ambitions of the Wizards' star duo. Danny Green and Seth Curry combined for 11/15 three-pointers while Joel Embiid's 4th quarter heroics took the game away from the Wizards.
ADVERTISEMENT
Article continues below this ad
Wiz fans will wonder that if a 60-point performance can not save them, what on Earth can?