"Wasn't an Acrobat, but Wasn't a Dead Fish": Dennis Rodman, Banned from Using Protection During S*x with Madonna, Revealed Dark Details in 1996
Published 01/24/2023, 3:30 PM EST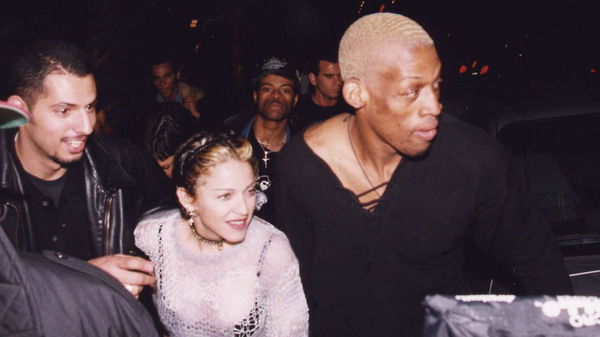 Dennis Rodman's fling with pop star Madonna is believed to be one of the most publicized relationships in the NBA. While the Worm and Madonna were together for just a couple of months in 1994, their broken relationship is still a topic of buzz in the NBA circles. Moreover, Rodman has also claimed several times that Madonna even offered to pay him $20 million just to impregnate her. Nearly two years after his breakup, Dennis Rodman revealed the dark secrets about his time with Madonna in his 1996 autobiography, 'Bad as I Wanna be'.
Rodman infamously made a bold move of showing up in a wedding dress in public in 1996 for the promotion of his autobiography. Moreover, the seven-time rebounding champ also had a special chapter dedicated to the pop star termed, "Madonna: An Old Fashioned Tale of Romance."
Dennis Rodman revealed secrets about Madonna in his book
ADVERTISEMENT
Article continues below this ad
In his 1996 autobiography Bad as I Wanna be, Dennis Rodman revealed some massive secrets about the dark side of his relationship with Madonna. Moreover, Rodman also talked about the Queen of Pop's dreams of having his babies with him. Shockingly, the two-time All-Star also gave an insight into how Madonna performed in bed.
In the book, Rodman stated, "Madonna talked all the time about having a baby. I think she wanted every bit of Dennis Rodman–marriage, kids, everything." The Chicago Bulls legend reckoned that Madonna was head over heels in love with him and desired to have a life with him. Rodman also made a huge claim in the book revealing that Madonna was crazy about having his babies. Shockingly, the Worm revealed that she prohibited him from using protection as well.
Meanwhile, the five-time NBA champion also ended up revealing intimate details about his relationship with the pop star. Rodman claimed that intercourse with Madonna was not "wild, crazy, and kinky. It was just very entertaining. She wasn't an acrobat, but she wasn't a dead fish either."
Thus, while many people stray away from discussing the details of their bedroom with the world, Rodman was quite open about his physical relationship with Madonna. However, in recent times, Madonna has paved way for questions about her sexuality after a big move.
Has Madonna come out of the closet?
Madonna has established herself as one of the greatest music icons in the world. The $1.2 billion musician recently stunned her fans with a huge gesture that left them wondering about her sexuality. Madonna posted a video of TikTok where it seemed like she's coming out as gay.
ADVERTISEMENT
Article continues below this ad
 In the video, Madonna played a game in which she proclaimed to be deemed gay if she missed the shot. Apparently, it appeared like the pop superstar intentionally missed the shot, leaving fans confused about her sexuality.
ADVERTISEMENT
Article continues below this ad
WATCH THIS STORY – White House expresses stern disapproval of Dennis Rodman after he disclosed Brittney Griner's rescue plans from Russia
Edited By: Satagni Sikder