WATCH: Basketball Player Dislocates Finger But Fixes it Immediately In Kobe Bryant Fashion
Published 11/22/2021, 8:30 AM EST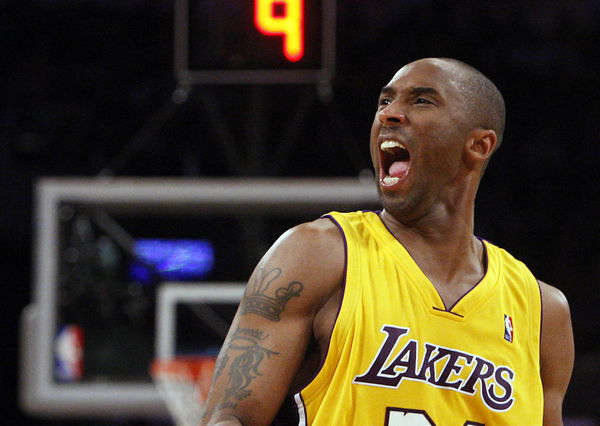 NBA players often miss games because of injury woes. But there is one player, like a selective few others, that didn't care whether he got hurt or not. His only focus was to play with all he had and win. That's right, it's none other than Kobe Bryant. However, when a mentality similar to him comes across, it's impossible not to come to everyone's notice. And when the player has not even entered the big league's, it's even more shocking.
An incident brings back memories of Kobe Bryant
In his last season playing for the Los Angeles Lakers, Kobe Bryant dislocated his middle finger while playing against the San Antonio Spurs, a game which they eventually lost by the score of 119-113. It happened during the last two minutes left in the fourth quarter. The legend was struggling to get the rebound after a missed three-pointer, he slipped on the floor and landed on his finger in an uncomfortable position.
ADVERTISEMENT
Article continues below this ad
Neither Bryant, not anybody else knew if it could be popped back into it's place. So, as he made his way to the sidelines, he turned towards his long-time trained Gary Vitti for assistance. And in a jiffy, his finger was back to its natural spot. As expected, Kobe was seen hitting the hardwood floor again as if nothing had happened.
A somewhat similar incident happened with Emmanuel Maldonado, a player for the Overtime Elite program. While he was playing defense, and that's when he hit his finger. A video of him screaming in pain went viral but when it was fixed in one go and went back to playing, for a second there, Kobe was on everyone's mind.
 

View this post on Instagram

 
Who is Emmanuel Maldonado?
Earlier this year, an initiative came up known as 'Overtime Elite. It was a program that helped boys between the ages of 16-18 make their way to becoming professional basketball players. It's nothing like AAU or prep school but actually gives the necessary education and resources that one needs to get to the NBA, along with getting paid for it as well.
They began to sign youngsters with great potential and a roster of 27 people came to life. Amongst these was Emmanuel Maldonado. The 6-foot-3 point guard has experience being an international player for Puerto Rico's U19. In fact, he has already created a social media presence that has gained a lot of popularity because of his workout videos and highlights from the game.
ADVERTISEMENT
Article continues below this ad
The above incident shows that this initiative is showing signs of success by bringing in players showing signs of dedication just like someone as brilliant as Kobe.
ADVERTISEMENT
Article continues below this ad