WATCH: 'Black Steph Curry' Shaquille O'Neal and Dwyane Wade Get Destroyed in Big Return to Basketball Court
Published 04/09/2022, 9:30 PM EDT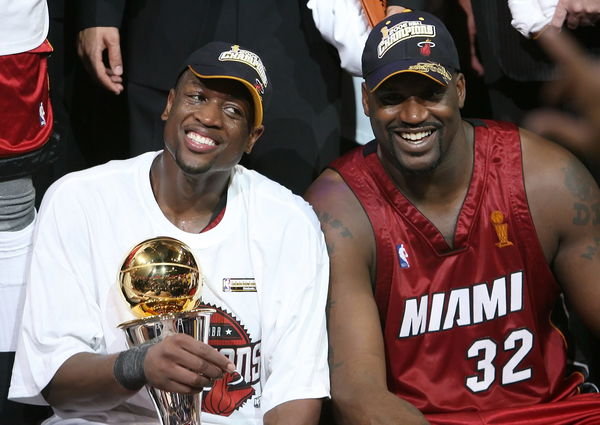 The NBA of TNT show is one of the basketball shows ever. The multiple-time award-winning show is now showcased on Tuesday and Thursday nights as well with new guests like Adam Lefkoe, Dwyane Wade, Candace Parker, Jamal Crawford, and others. And being in the presence of the basketball legends, there has to be some competition going around. And this time it was 'Black Steph Curry' Shaquille O'Neal and Dwyane Wade who were on the losing side.
The crew was in the studio on Thursday for the NBA matches. And they had a three-point shooting competition in their free time. The teams were Shaq and Wade versus Lefkoe and Crawford. The aim was to take a shot each and make it to win the game.
ADVERTISEMENT
Article continues below this ad
 Shaquille O'Neal and Dwyane Wade get humiliated in the three pointing shooting contest
The game started with the self-proclaimed 'Black Steph Curry' Shaq taking the first shot. Despite having made only one three-pointer in his entire NBA career, Shaq drained the first shot. Then it was Lekfoe's turn who stepped up and laced it. And he hit nothing but net. Next up was Wade, who is not known for his threes, but he was still a threat from there. But Wade ended up missing it, giving Crawford the chance to win it. And Jamal stepped up and made the clutch shot to win the game. The duo celebrated their win and let out a roar. Wade congratulated the two, but Shaq wasn't impressed and he did not shake their hands. And when Lefkoe went to shake hands, Shaq jokingly tried to kick him.
ADVERTISEMENT
Article continues below this ad
 

View this post on Instagram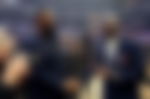 ADVERTISEMENT
Article continues below this ad
This was a humiliating loss to the two Hall of Fame teammates. Shaq and Wade had won a chip together at the Miami Heat, but they were unable to overcome Crawford and Lefkoe. Crawford is considered by many to be the greatest sixth man of all time, but compared to Wade and Shaq, he was an underdog in the competition. The pairing of Shaq and Wade will want to get their revenge soon.
WATCH THIS STORY: Legends who think LeBron James is the GOAT