WATCH: Boston Celtics Star Jaylen Brown Shows Shades of LeBron James with Chase Down Block in Season Opener
Published 12/23/2020, 9:20 PM EST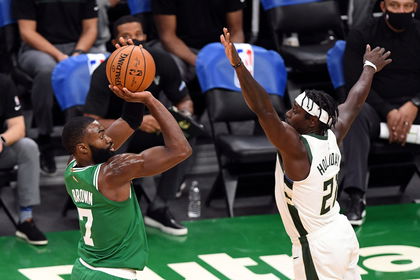 ---
---
The Boston Celtics and Milwaukee Bucks are locking horns in their first matchup of the 2020-21 NBA season. The two Eastern juggernauts are expected to contend for the NBA Championship this season.
ADVERTISEMENT
Article continues below this ad
As expected, the two were exchanging blows until the halftime whistle. However, one player in particular is carrying the Celtics on his back. It was none other than star guard Jaylen Brown. Brown led both teams in scoring by the end of two quarters.
Furthermore, Brown is putting on a show with his flashy gameplay. One such play featured him running down the full court to pull off a chase-down block.
ADVERTISEMENT
Article continues below this ad
Brown put on the jets to make sure the game was still in the grasp of him and the Celtics. Along with Brown, Jeff Teague is playing an instrumental role for the Celts. He supported Jaylen in the absence of Jayson Tatum, who is having a poor game according to his standards.
If Jaylen Brown can keep up his performance until the end of the game, the Celtics should begin their new season on a winning note.
Can Jaylen Brown and Jayson Tatum finally lead the Boston Celtics to an NBA title?
ADVERTISEMENT
Article continues below this ad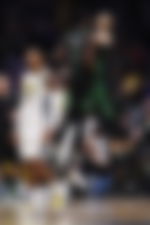 Over the last few seasons, the Celtics have performed insanely in both the regular season and the playoffs. However, they have failed to get past the Eastern Conference Finals in the last 3 of their 4 playoff appearances.
This season, they are once again one of the top favorites to come out of the East. But if they fail at this task once again, it might be time to reevaluate a few things for them. They have an all-around roster, where all their stars have playoff experience.
ADVERTISEMENT
Article continues below this ad
It will be exciting to see what the Celtics have in store for their fans this season, especially with Kemba Walker likely to miss the start of the season due to injury troubles. Will this have a lasting impact on the team? Or can they manage without Walker, with Brown and Tatum leading the way for them?