WATCH: Brooklyn Nets' James Harden Meets With David Beckham Courtside at Barclays Center Before His Matchup With Atlanta Hawks
Published 11/03/2021, 10:11 PM EDT

Follow Us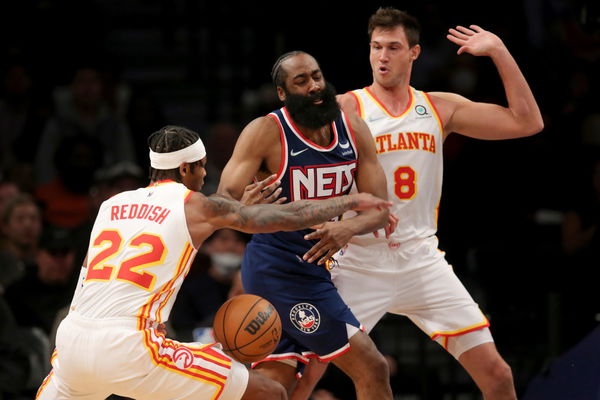 The Brooklyn Nets and the Hawks met with the motive of overtaking the other in the EC rankings on Novermber 3rd. Both teams standing with the same 4-3 record at the eighth and ninth seed respectively have had a mediocre start to their 2021-22 NBA season.
However, before the game began, it seemed like the Nets had someone external motivation to back them up. Nets' superstar James Harden was seen meeting a legendary footballer on the sidelines before the game began.
ADVERTISEMENT
Article continues below this ad
James Harden greets David Beckham
The Atlanta Hawks came into this matchup hoping to add another victory to their record. However, the Brooklyn Nets dominated for the most part of the game, keeping their lead throughout. Unfortunately, the Hawks, who wanted to kick start a winning streak after their vital 118-111 win against the fiery Washington Wizards, came to a quick halt.
Whereas the Nets just extended their winning streak to three games by defeating Atlanta 117-108. With so much going around with the Nets, they need as many victories as possible to keep their head above water. Of course, Kevin Durant's 32-point performance, coupled up with Joe Harris' 18 points, helped them with their fairly easy win.
However, James Harden had quite a slow night, who could only contribute 16 points, but he also had 11 assists. But in this game, Harden made headlines for other reasons. He was seen catching up with English football icon David Beckham courtside, right before the game.
There is no indication of whom David was there to support because he doesn't usually attend NBA games, but it's safe to assume that it was the Nets.
WATCH THIS STORY: Top Trade Destinations for Estranged 76ers Star Ben Simmons Featuring Damian Lillard's Trail Blazers
ADVERTISEMENT
Article continues below this ad
Brooklyn Nets star's struggle continues
Harden's offensive production has seen a lot of struggle at least in the first five games of the new season. Until his 29 point performance against the Indiana Pacers, his highest was 20 points in every game. And the biggest drawback for his game has been his inability to draw falls, thanks to the NBA's new rules that referees have to go by.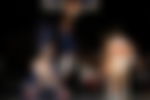 Now, he will have to figure out a way to contribute more to the scoreboard. With no sign of Kyrie Irving's return as of now, KD and Harden are the two pillars holding up the fort. And Durant can't be expected to put up incredible numbers every night. He too needs someone he can rely on. Will Harden eventually adjust since the season has just begun? Or will this new officiating rule be the reason for his downfall?
ADVERTISEMENT
Article continues below this ad