WATCH: Brooklyn Nets' Kevin Durant and Bucks' Giannis Antetokounmpo Take Part in an Early Feud
Published 01/18/2021, 8:59 PM EST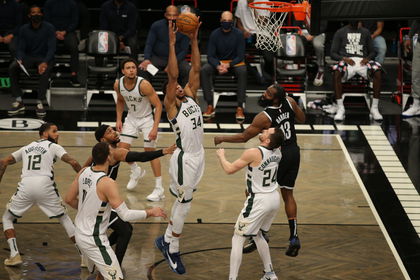 ---
---
The Brooklyn Nets and the Milwaukee Bucks are most probably amongst the top 3 EC teams unless something really strange happens. The Nets are working their way up after the touted inclusion of James Harden, while the Bucks are continuing their momentum from the past two regular-seasons. 
ADVERTISEMENT
Article continues below this ad
The two sides locked horns at Barclays Center, Brooklyn, and the game became a live wire from the very beginning. It was Khris Middleton and Giannis Antetokounmpo from one end and mostly Kevin Durant from the other end, taking the charge in Q1.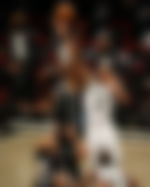 When Kevin Durant and Giannis Antetokounmpo lost their cool
ADVERTISEMENT
Article continues below this ad
Just 2 minutes into the game, KD and Giannis found themselves in the middle of a rant. Just as Middleton completed an unguarded dunk, KD rammed into The Greek Freak and pushed him off the court, and it was called a foul. 
However, Giannis continued with finding no luck from the free-throw line and missed the FT. He has been struggling to put shots from the line and that is increasingly becoming an underestimated worrying factor for the Bucks. Well obviously, the 2-time MVP covers those errs with his all-around ability to score and guard. 
In Q1, the Bucks took a 6-point lead, which they later blew away early in the second quarter. 
ADVERTISEMENT
Article continues below this ad
Brooklyn Nets vs Milwaukee Bucks: Who can be the ultimate king of EC?
It is still too early to conclude, but if the Nets come out as the winner, even with Kyrie Irving not playing, that would be scary for the Bucks. Ky has missed the last six games and the Nets are 4-2 without him. Now with both The Beard and KD going in all guns blazing, it can prove tough for any team to stop them.
It might be a different story for the Bucks, though. Downtown has always been great at defense, and that makes them stare the Nets straight in the eye. They have restricted five teams in the last 13 games from reaching 100 points, while they themselves have never stood at double figures. But can they continue such performance against the Nets?
ADVERTISEMENT
Article continues below this ad
By the end of the first half, the Nets, with the help of four players scoring 11 points, stood at 57 points. The Bucks were trailing by 1 point, with Giannis and Khris combining for 30 points.