WATCH: Nets' Kevin Durant Breaks the Nuggets' Defense with a Punishing Aerial Dunk
Published 01/12/2021, 8:58 PM EST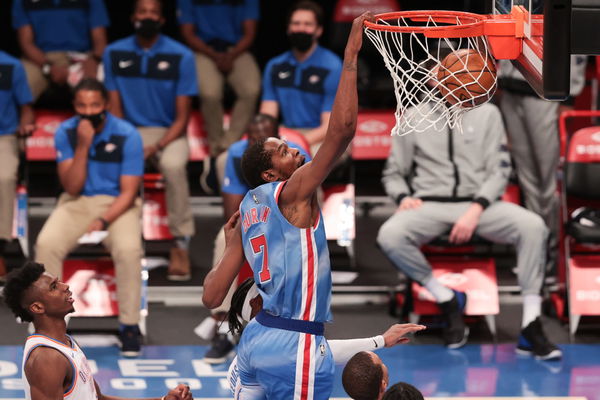 ---
---
The Brooklyn Nets have lost four of their last six games. They're in a tough situation considering the ruckus around Kyrie Irving. The Nets are such a deep roster that an early record of 5-6 does not do justice to their campaign. So all eyes are now on Kevin Durant to see if he can pull them out of the rut.
ADVERTISEMENT
Article continues below this ad
In the game against the Denver Nuggets, the Nets showed a decent start, but Nikola Jokic soon took that away. Still, it was Durant who showed a tremendous fight in the first half and impacted the game with an all-around play.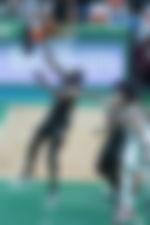 Nets' Kevin Durant showed no signs of weakness
ADVERTISEMENT
Article continues below this ad
Just when the Nuggets were 17-13 ahead into the 7th minute of the game, KD showcased his power. He made a driving dunk coming from the opposite end of the court. His fake cross was so good that no Nuggets' defender could even reach his aerial dunk. 
ADVERTISEMENT
Article continues below this ad
Even though KD could not break into double figures until the second quarter, it was just him pushing the scoreboard in the initial minutes. Later in the second quarter, a 23-ft three-point jumper and converting each of those free throws further helped the team. It is increasingly important for him to make heavy plays if the Nets wish to jump back. Otherwise, by the time Ky joins, the damage might be done.
Caris LeVert looked equally dangerous
For the Nets, it was also Caris LeVert who made his mark, with his deep pullup jump shots, layups, and Durant-assisted two-pointers. He converted 7/11 field goals and scored 18 crucial points in the first half. Even in the last few games of Nets, it was Caris who played his part quite consistently in the absence of Kyrie.
ADVERTISEMENT
Article continues below this ad
His average in the series is an impressive 18.4 points, 4.3 rebs, 6 assists, and 1.2 steals. Fortunately for the Nets fans, he continued this performance against the Nuggets. By halftime, the Nets were trailing 54-70 with a slim chance of making a comeback against the heavy offense. It was as if the Nets were playing against Nikola while the latter was dominating.