WATCH: Chris Paul Shows Off His Shifty Handles to Beat Bucks' Defense Before Completing a Smooth Layup in NBA Finals Game 1
Published 07/06/2021, 11:20 PM EDT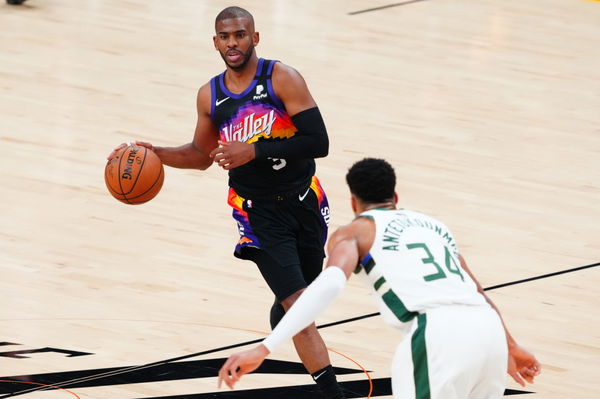 ---
---
The Milwaukee Bucks and Phoenix Suns entered Game 1 with all desperation to change the history of their franchise. While the Bucks haven't seen the face of the NBA Finals since 1974, having last won it in 1971. The Suns don't have a championship accomplishment under their name. However, it seems like their veteran leader Chris Paul is determined to change that by ensuring they win Game 1.
ADVERTISEMENT
Article continues below this ad
Phoenix Suns superstar's smooth moves
There isn't anybody who can deny that the Phoenix Suns are a whole different team now. We saw a spark of their talent in the Orlando Bubble when they went undefeated for eight games. But nobody had expected to see them in the NBA Finals the very next season. But when Chris Paul joins a team, stats have proven that he only makes them better.
ADVERTISEMENT
Article continues below this ad
After an incredible run in the regular season and then the playoffs, the Suns have won tons of hearts along the way. Those who weren't even rooting for them are standing by Chris Paul to lift the Larry O'Brien trophy for the first time in his storied 16 season career.
Game 1 against the Milwaukee Bucks is no different. Thanks to Chris' exceptional scoring, the Suns are keeping a lead throughout that the Bucks have been unable to catch up with. Just in the third quarter, Chris showed off some of his handles that helped him get past Milwaukee's defense and dropped another basket.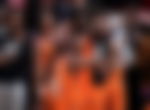 Chris Paul leads the way in Game 1
CP3 is the lead scorer with 32 points as the fourth quarter begins. In fact, he scored 16 of his 27 points in the third quarter itself. No wonder he is right on top in the NBA Finals MVP ladder.
ADVERTISEMENT
Article continues below this ad
In the 2020-2021 Kia NBA MVP Award, Paul had finished fifth in the voting. However, he keeps on proving that he deserves to be far higher in ranking. So now, he is the favorite to win the Finals MVP, with, of course, his contenders being his own teammate Devin Booker, then Bucks' Giannis Antetokounmpo, Khris Middleton, and Jrue Holiday.
This is a tough crowd to compete with. However, if the Suns win the championship, Paul is definitely going to take the cake. But right now their focus is to win the first game, and it seems likely that they will. Once again, thanks to Chris Paul.
ADVERTISEMENT
Article continues below this ad
WATCH THIS STORY: The Weirdest Things Michael Jordan, Carmelo Anthony & Other NBA Players Have Bought