WATCH: Mavericks' Luka Doncic Pulls Off LeBron James' Trademark Shot Against Spurs
Published 01/22/2021, 9:57 PM EST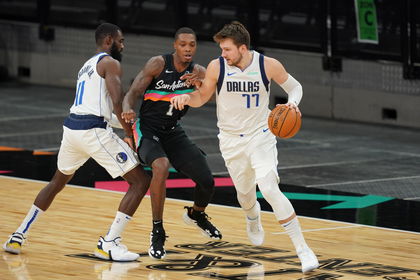 ---
---
The Dallas Mavericks faced the San Antonio Spurs, all amped up after a big victory over the Pacers. Luka Doncic held the "show horse" flag in his hands as he took the Spurs by storm in the first quarter.
ADVERTISEMENT
Article continues below this ad
For the Spurs, it was LaMarcus Aldridge who gave them the early boost. The center player dropped 4 three-pointers at an 80% accuracy in the initial quarter. It was more like a Luka vs LaMarcus battle in the beginning.
Luka Doncic channeled his inner LeBron James
ADVERTISEMENT
Article continues below this ad
In the initial three minutes, it was all about the Mavericks' offense, especially Luka's. At one point, the Slovenian entered the paint, working his way against guard Lonnie Walker IV.
That's when he used a LeBron James trademark fadeaway to convert a smooth two-pointer. The Lakers' forward's one-legged shot is very popular and his fadeaways are largely unguardable. Take a look at how Luka used the glass to show the move –
A scary Luka dominated the first quarter like no one else. He dropped 19 points, 5 rebs, and 6 assists in those 12 full minutes of play. He did miss the clutch three-pointer but nailed every other time frame. His floating jump shots and driving layups looked picture perfect, and that reflected in those numbers.
When Luka failed to help the Mavericks win after a great start
In the Mavs' game against the Bulls, Luka enjoyed a 30-point first half. He looked set for at least a 50-point game, but unfortunately for the Mavs, the complacency stopped him at 36 and they lost the game 101-117.
In the post-game conference, coach Rick Carlisle signaled towards the lack of rotation players because of protocols, while Luka took the blame on himself. 
ADVERTISEMENT
Article continues below this ad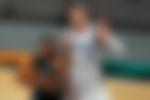 Back to the match against Spurs, Luka again entered with five minutes left in the second quarter. Mavs' big man Kristaps Porzingis (a match-winner against the Pacers) opened Q2 with a three-pointer.
Forward Tim Hardaway followed him with two more to give the Mavs an early 22-09 lead after six minutes. By halftime, the Mavs led the scoreboard 68-58, but Luka scored just 2 points in Q2. 
ADVERTISEMENT
Article continues below this ad
Read Also – Gordon Hayward Compares LaMelo Ball's Game to That of Luka Doncic & Russell Westbrook