WATCH: Mavericks' Luka Doncic Puts Warriors' Steph Curry to Shame with a Buzzer-beater
Published 04/28/2021, 12:06 AM EDT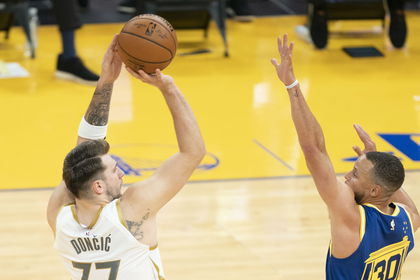 ---
---
On Tuesday night, the Mavericks inflicted shame on the Warriors with a dominant play that was unique to this season. It appeared as if the Mavs were seeking revenge for the series loss against the Kings, by punishing Steph Curry's GSW.
ADVERTISEMENT
Article continues below this ad
Luka Magic took on Steve Kerr's men by storm as Kerr watched the humiliation as a helpless bystander. The Warriors absolutely had no answers against the Mavs, and as the night matured, the situation for Bay Area kept getting worse. It was Luka all over the place, with no signs of Chef Curry making the cut.
When Luka Doncic denied Steph Curry a block
ADVERTISEMENT
Article continues below this ad
After losing Q1 by scoring a meager 12 points, the Warriors continued their poor play in the second quarter. Right before the half-time, the Mavs were leading 60-29 when Luka Doncic dropped a buzzer-beater over at least three players checking him. The Mavericks guard came from the opposite end, cut through the traffic, and pulled a floating jump shot over an answerless Steph Curry.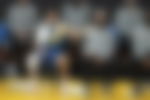 That was not it. He continued with his circus shots in the second half and punished Andrew Wiggins a couple of times. The man of the hour was hitting threes from each side and it was a spectacle to see Luka not taking no for an answer.
That look on Steph's face behind the towel proved that the Mavs got under his skin on Tuesday night. 
Read also – Warriors' Draymond Green Calls Himself as 'One of the Best Passers in NBA'
The Mavericks and their sheer domination over the Warriors
ADVERTISEMENT
Article continues below this ad
This was the Mavs' second victory over the Warriors in the current season. One must note that the Warriors had blown out the Mavs on February 4 with a 147-116 victory. Almost three months later, Luka's men forced the Dubs nation to taste their own medicine. 
Although GSW's guards, Steph Curry and Mychal Mulder, combined for 11/20 three-pointers and 53 points, the rest failed miserably. Veteran Draymond Green went scoreless as he tried just one field goal, while Kelly Oubre Jr. looked every bit rusty. 
For the Mavs, the bench players, Tim Hardaway and Jalen Brunson helped with the offense. On the other end, guard Trey Burke and forward Dorian Finney-Smith stunned the Warriors with an amazing defense. 
ADVERTISEMENT
Article continues below this ad
It was a forgetful 30-point loss for the Warriors which again brought them to the 50% win%. Do you think they can bounce back from here?