WATCH: Damian Lillard Chooses the Fancy Route to Finish in Team USA's Quarterfinal Clash vs Spain in Tokyo Olympics
Published 08/03/2021, 1:48 AM EDT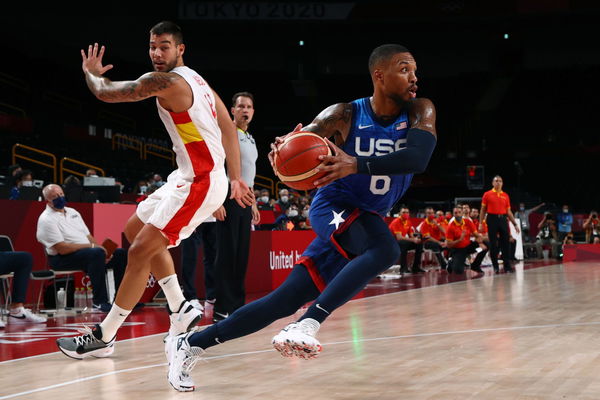 ---
---
Spain's arch-nemesis the USA is once again going to try its luck in crushing their hopes of grabbing a gold medal at the Olympic Games. Since losing to them in the 2004 Games, they haven't recovered once and made a comeback. However, this quarterfinals is their shot in doing so. This is the second time the two teams have gone up against each other, with Team USA triumphing over by 83-76 in the first game. And this time, Spain is out for revenge. But the way Damian Lillard moves on the floor, will not make it easy for Spain.
ADVERTISEMENT
Article continues below this ad
Damian Lillard shows off some fancy moves
Both sides entered this battle with a 2-1 record. While the USA had lost its opener to France, eventually gaining momentum by defeating Iran and Australia. Spain won both of their first two games against Japan and Argentina and then falling to Luka Doncic's Slovenia in the previous bout.
ADVERTISEMENT
Article continues below this ad
Going up against a team like Spain, that too at the knockout stage, USA couldn't get any unluckier. But one way or another, they had to face each other and with the game in full force, Spain and the USA continue their tug of war to keep their leads. The first half ended with the score tied at 43 each.
But right before that, Damian Lillard takes the spotlight with an incredible basket. He uses a pump fake while driving to the bucket and gets Spain's Hernan Gomez to foul him but not enough to keep him from making the basket. This was as effortless Dame is from the arc.
WATCH THIS STORY: From Rags to Riches: Kevin Durant, Allen Iverson & Other NBA Stars Who Turned Their Lives Around
Team USA or Spain: Who will win?
ADVERTISEMENT
Article continues below this ad
As of now, the competition is going head to head. Spain outscored the USA 22-19 in the first quarter. But they eventually caught up to them in the second going 24-22 in the second, tying up the score. Kevin Durant is leading the way right now with 18 points entering the third quarter. Right behind him is Zach LaVine and Damian Lillard with 7 and 6 points, respectively.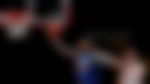 Some are rooting for USA who will be en route to clinching their fourth consecutive gold, but some want another team wearing that medal around their neck for a change. And if there is one team that can pull that off, it's the No. 2 ranked Spaniards.
ADVERTISEMENT
Article continues below this ad
It's definitely tough to choose which side is likely to finish on the winning side. But USA's talented star-studded roster could be the difference-maker. Unless Spain makes the most of their strong defense that could help swing the victory in their favor, the USA are the clear favorites. With two more quarters to go, let's see how it goes down.