WATCH: Draymond Green Dances Along With Grizzlies Fans on Sidelines During Warriors' Embarrassing Game 5 Loss
Published 05/12/2022, 7:30 AM EDT
The Golden State Warriors have been flattened by the Memphis Grizzlies at the FedEx Forum. It could have been record-breaking if the Grizzlies did not take their foot off the gas by the middle of the third quarter. They lost the game by almost forty points by the end of the game. Game 5 of the Playoff series was just not at all enjoyable for the Warriors. The players looked dejected and the fans sullen.
But Draymond Green did enjoy a bit with the Grizzlies fans. There was not much to enjoy for Green but he did dance along with Memphis fans. It looks like he has taken the loss to his chin. Green, who played the game for 22 minutes, didn't look his best at all. No one did.
ADVERTISEMENT
Article continues below this ad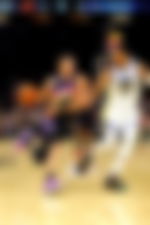 Green had 5 turnovers which led Memphis to explode. He also had -32 when he was on the court. He did not play any minutes at all beyond some in the third quarter. For him, the game was over during that time.
Warriors vs Grizzlies: Game 5
It was a loss of epic proportions for the championship contenders. The Grizzlies showed a side that they hadn't before. The game was over much before the final buzzer was heard. The Grizzlies were without star player Ja Morant but they did not have a problem dismantling the Warriors. Jaren Jackson Jr., Desmond Bane, and Tyus Jones all combined together 21 points in 25 minutes or fewer. Jackson and Bane shot 4 out of 6 from beyond the three-point line.
ADVERTISEMENT
Article continues below this ad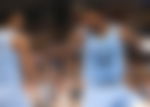 It's not that the Warriors even shot badly (45% Field Goal Percentage). It's just very difficult when your opponent overwhelms you by scoring 19 more field goals and 17 more free throws. They won the rebound battle 55-37. Steven Adams's addition helped them in the rebound battle.
Grizzlies also had 37 of their 47 field goals assisted. They shot 47% from the field and 44% beyond the arc. They forced 22 turnovers.
ADVERTISEMENT
Article continues below this ad
WATCH THIS STORY: Tiger Woods Becomes Half-Granduncle as Cheyenne Woods and Aaron Hicks Welcome Baby Boy
It was a clinic for Memphis. For now, the Warriors will have to go back home and focus on sealing the match in San Francisco. The next game is on Friday. It will be very interesting to watch to see who goes forward to the Western Conference finals.