WATCH: Giannis Antetokounmpo and Zion Williamson Swap Jerseys After Exciting Duel
Published 02/26/2021, 1:53 AM EST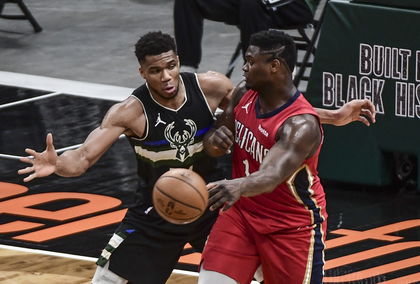 ---
---
Giannis Antetokounmpo and Zion Williamson are two of the brightest talents in the NBA. The two players have been touted as the future faces of the NBA at different points in their careers.
ADVERTISEMENT
Article continues below this ad
Both players are known for their incredible explosiveness and brute strength. And it appears the two have great mutual respect for each other.
Zion and Giannis trade their jerseys
ADVERTISEMENT
Article continues below this ad
The New Orleans Pelicans lost a close game to the Milwaukee Bucks. After the game, Williamson and Giannis were spotted trading their jerseys and sharing a moment of respect with each other.
It was a great moment for all NBA fans to be able to see two of the best in the NBA show a great deal of admiration for each other, right after going to battle.
Giannis Antetokounmpo has been struggling this season. He hasn't been able to replicate his form from his prior two MVP seasons. While Giannis' numbers are strong, they are not what we have come to expect from him. Furthermore, his numbers have not lead the Milwaukee Bucks to a fantastic record in the NBA as they have done in the past.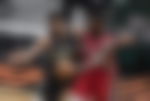 Williamson, on the other hand, is showing why there was so much hype surrounding him. In just his sophomore year, he has received his first-ever All-Star nomination.
Furthermore, he is one of the leading members of the New Orleans Pelicans, as he has kept the franchise afloat with his scoring numbers. Despite his performances, the Pelicans have been inconsistent this season.
Giannis Antetokounmpo vs Zion Williamson – All-Star classic?
Currently, both Zion and Giannis are on track to be in the All-Star game. It will be interesting to see whether the two strong players will have a chance to take the court against each other. Given that both of them have a very similar style of playing, an All-Star matchup with Giannis and Zion will be a sight to behold.
ADVERTISEMENT
Article continues below this ad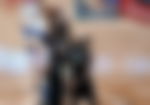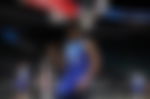 Who will end the season with a better record – Giannis' Bucks or Zion's Pelicans? Both teams are struggling to build form at the moment. However, the Milwaukee Bucks have the advantage of being in the Eastern Conference. Compared to the West, the East has less solid contenders and weaker playoff threats.
ADVERTISEMENT
Article continues below this ad
But Zion can change things if he decides to take control of the team.