WATCH: Giannis Antetokounmpo Leaves Jae Crowder Clueless with Smooth Euro-Step in NBA Finals Game 3 vs Suns
Published 07/11/2021, 9:57 PM EDT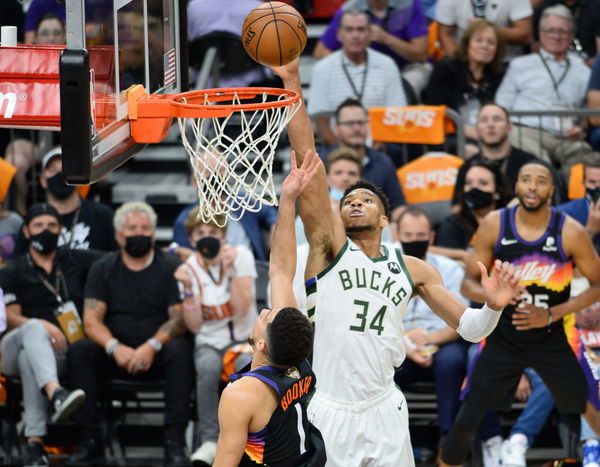 It finally happened, the city of Milwaukee hosting their first NBA Finals game in nearly 50 years. Although it was just the third game in the series, somehow it felt like a must-win game for the Bucks. So, Jrue Holiday gave them a head start, drilling a three-pointer on a Giannis Antetokounmpo assist to begin the madness.
However, in a surprisingly early move, Giannis left the court after 3:30 as Pat Connaughton replaced him. The Freak first went to the locker room and then to the bench, forcing the Bucks fans to skip a heartbeat. He came back after a 150-second break and wreaked havoc.
Giannis Antetokounmpo taking the Phoenix Suns out single-handedly
ADVERTISEMENT
Article continues below this ad
The long-range prowess for Jrue died early as he went dry in the later minutes. But Giannis Antetokounmpo covered for all the mess as he looked very much like his Game 2 self, where he had scored 42 points.
The Freak show that majorly started in Q2 went equally lethal at the beginning of Q3 as he completed a picturesque euro step. Take a look at how both Jae Crowder and Mikal Bridges went clueless as the Greek completed a smooth layup –
Although Giannis did not achieve any mention-worthy defensive success early in the game, his offensive game was super strong. The man had 27 points in his first 25 minutes, soon cruising towards a double-double. Also, it would be too bad if his massive dunk on a crazy PJ Tucker assist is not mentioned –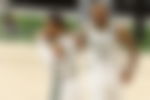 ADVERTISEMENT
Article continues below this ad
The Bucks locked the visitors to a good extent
It appeared that coach Monty Williams had a rotation tweak, putting Jae Crowder on Giannis' minutes. Also, the star coach's pep talk to DeAndre Ayton in Game 2 seemed to have stayed with the young center in Game 3 too. The 22-YO had 10 overall G2 points, but he already scored 12 in Q1 of G3.
However, they had a struggling Devin Booker who could manage just 5 points (1/7 FG) in the beginning quarter. That continued in the second quarter too, where Book had just 2 points to his name, forcing the Suns to trail 17-35 in those 12 minutes. The Bucks did a great job guarding the youngster and also in using turnovers in the best possible way.
ADVERTISEMENT
Article continues below this ad
With two minutes left in Q3, the Bucks led the Suns by 9 points. Which team were you supporting tonight and why? Help us know in the comments below.
Watch this story – Bucks' Giannis Antetokounmpo's Most Heated Moments Over the Years