WATCH: Giannis Antetokounmpo Shuts Down Injury Concerns Following Monster Chase Down Block in NBA Finals Game 1
Published 07/06/2021, 10:45 PM EDT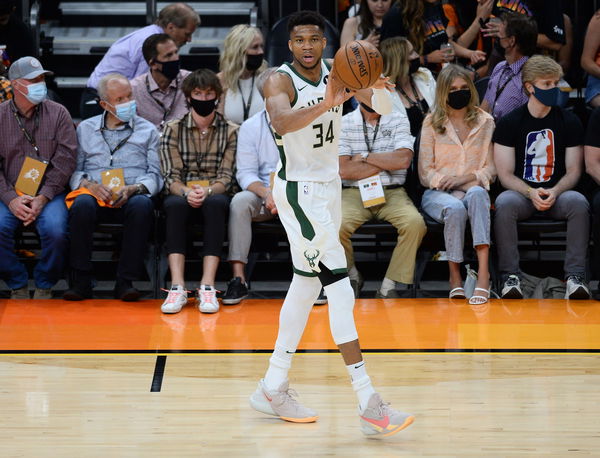 ---
---
The NBA Finals have begun! The enticing Milwaukee Bucks vs Phoenix Suns Game 1 has kept fans glued as the two fight for a vital lead. This was a matchup that nobody had expected. The Brooklyn Nets, Lakers, Utah Jazz, or even the Clippers seemed like the ones to get here, at least on paper. But here we are. And as the game has reached halftime at 57-49, Giannis Antetokounmpo is acting like he was never injured.
ADVERTISEMENT
Article continues below this ad
Was Giannis Antetokounmpo even injured? Doesn't look like it.
Giannis' health was a big concern while entering this series. The superstar went down with a knee injury while playing the Atlanta Hawks in Game 4 of the Eastern Conference Finals. Not only did the Milwaukee Bucks lose that game, but they also ended up with Giannis benched. The way he injured his knee seemed like he wasn't going to make a comeback.
ADVERTISEMENT
Article continues below this ad
While the Bucks were able to make their way out of the ECF without Giannis, they weren't sure they could pull that off again against the Phoenix Suns. So Giannis was cleared before their first game but doubts were still up in the air.
However, Giannis is the best player on the team for a reason. Whether he is feeling the pain or not, he is powering through it as if there is nothing at all. Especially after his chase-down block on Mikal Bridges, when the last minute of the second quarter was closing in on him.
WATCH THIS STORY: Giannis Antetokounmpo's Most Heated Moments Over the Years
Can the Milwaukee Bucks cover up the deficit?
Despite the injury, Giannis is one of the good scorers on the team. With the third quarter in full force, Giannis has 13 points and 10 rebounds. But his supporting cast is failing to do better, once again.
ADVERTISEMENT
Article continues below this ad
While four of the Suns' starters are in double digits, Bucks' Khris Middleton and Brook Lopez are the only ones making some decent contribution to the scoreboard.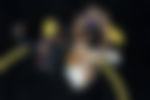 Unfortunately, Milwaukee has trailed throughout the game so far. Whether they will be able to somehow catch up with the Suns, is a wait-and-watch situation. But by the looks of it, it seems like the Suns are determined to bag Game 1.
ADVERTISEMENT
Article continues below this ad