WATCH: Warriors' Steph Curry Throws Pelicans' Eric Bledsoe Off Balance and Buries the Three-Pointer
Published 05/03/2021, 10:31 PM EDT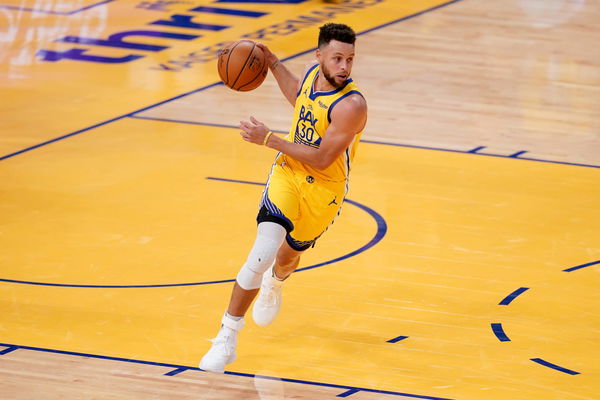 ---
---
The Warriors, even after taking some tough losses last month, still stand a very real chance of entering the top 8 in the WC standings. Their Monday night 123-108 victory over the Pelicans further cemented their chances of hitting it off.
ADVERTISEMENT
Article continues below this ad
It was again a Steph Curry show in the Smoothie King Center, where he looked every bit the same man who nailed it in April. It was one flawless night for the point guard who allowed no one, not even Zion Williamson, to stop him from shooting those bombs.
When Steph Curry forced Eric Bledsoe to hit the floor
ADVERTISEMENT
Article continues below this ad
Guarding the baby faced assassin does not come easy as one needs to catch up with the speedy dribble and the quick change in direction. Eric Bledsoe definitely knew this when he checked Steph, but he still hit the floor after losing his balance. This was at the beginning of Q3 when the Warriors were already on a 10-point lead.
Steph Curry was in complete control of his shot-making and dropped 8 three-pointers that night. He scored 41 points, 4 rebs, 8 assists, and 1 steal to leave nothing for the Pelicans with which they could eye a bounce back.
Read also – Lakers' Legend Magic Johnson Chooses Nikola Jokic Over Steph Curry for the MVP Trophy
The Warriors further pushed away the Pelicans
The Pelicans still hold a chance of entering the Top 10 and further meeting the Warriors in the play-in. So it was important for GSW to keep their supremacy over New Orleans. To achieve this, they had Andrew Wiggins scoring 26 points and contributing effectively from the defensive end too. A smooth triple-double from Draymond Green and a memorable 75% FG night from Juan Toscano-Anderson added more flavor.
ADVERTISEMENT
Article continues below this ad
However, another play from Steph Curry in the fourth quarter more or less summed the game. In one sequence, he pushed a bulky Zion Williamson away and created massive space for himself with which to score a three.
ADVERTISEMENT
Article continues below this ad
All-in-all, the Warriors are now a 33-win team and they can become a tough competitor for anyone in the approaching play-ins.