WATCH: Kevin Durant Makes a Smooth Jump Shot to Surpass Carmelo Anthony and Become Team USA's All-Time Leading Scorer
Published 07/31/2021, 10:20 AM EDT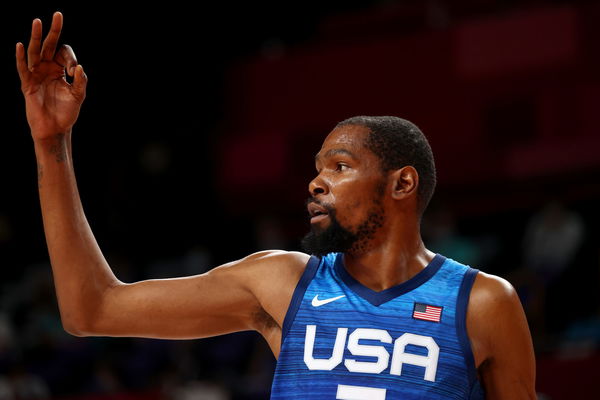 Kevin Durant and team USA faced off against the Czech Republic in the last group stage game of the Olympics. With France already clinching the first spot in Group A, this matchup against the Czech is a must-win for team USA if they want to make it to the knockout stages of the competition.
ADVERTISEMENT
Article continues below this ad
The game started off in an incredible fashion. With the European nation shooting lights out, team USA saw themselves at a 7-point deficit at the end of the first quarter. While the signs were worrying, Durant and Co. made a comeback from a 25-18 scoreline to take a lead of 47-43 at the end of the second quarter.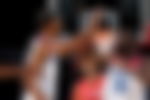 There was no stopping the defending champions since then as they crushed the Czech Republic in the second half and ultimately blew out the European side by a whooping 35 points with a 119-84 scoreline.
ADVERTISEMENT
Article continues below this ad
Kevin Durant surpasses Carmelo Anthony's Olympic record with smooth jumper
There is no doubting the scoring ability of Kevin Durant. The Nets' superstar has had multiple scoring records to his name and now he has etched his name in Olympic history.
Entering this game, KD needed only 5 points to surpass Blazers' Carmelo Anthony as the all-time Olympic scoring leader for USA. In the 4th minute of the second quarter against Czech Republic, Durant drilled a lethal three-pointer to surpass Melo's record of 336 points.
ADVERTISEMENT
Article continues below this ad
The 2012 MVP was simply unstoppable against the Czech Republic. When his team was struggling to score, KD kept the team in contention. Shooting an effective 8 of his attempted 11 attempted shots, Durant was the second lead scorer in the game with 23 points only trailing Jayson Tatum.
After a disappointing loss at the hands of the French team, team USA have made a massive comeback in the group stage. Defeating Iran and Czech Republic by a mind-boggling 54 points and 35 points, respectively.
ADVERTISEMENT
Article continues below this ad
These two wins by US have certainly made a massive statement. Not only have all the players stepped up, team USA showed why they are the favorites to win their fourth gold medal in a row.
But their path to a gold medal will not be easy. Standing in the path of the champions are two incredible teams, France and Slovenia. Led by the likes of Rudy Gobert and Luka Doncic respectively, these two teams have been in incredible form so far in the Olympics. Will USA be able to defend their title in the Olympics?