WATCH: Kevin Durant Makes Back to Back Difficult Shots to Keep Team USA in the Game vs Australia in Tokyo Olympics Semifinals
Published 08/05/2021, 1:24 AM EDT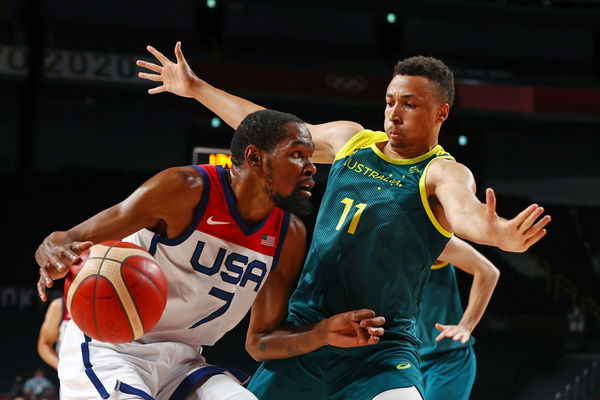 ---
---
After Team USA defeated Spain in an intense quarterfinal of the Tokyo Olympics, most fans breathed a sigh of relief. However, a much more difficult matchup was waiting for them next door and it was Australia. Knowing that they were facing the Aussies, all anybody could think about was how they defeated the USA in the exhibition game and if this time would be any different. And Kevin Durant is the one man who can make this happen.
ADVERTISEMENT
Article continues below this ad
Kevin Durant keeping Team USA alive
Well, it doesn't seem that way so far, and the USA seems to be letting its chance at redemption slip away. This win by Australia could finally put an end to the dominance the Americans had inflicted upon other teams in the Olympic Games. They had been winning gold medals for the past three competitions and, thanks to Australia, their reign might come to an end.
ADVERTISEMENT
Article continues below this ad
While other teams might celebrating this, team USA will cost themselves a legacy. Well, what did they really expect? The whole team seems to be dependent on the likes of Kevin Durant.
In other games as well, if it wasn't for Durant's production, USA would have been knocked out. By the end of the second half vs Australia, only he had contributed to the scoreboard in double digits, with hardly anyone else scoring. In fact, he was making some unbelievably difficult shots in an effort to ensure they kept Australia close.
However, it has seemed to work a little. At halftime, he has 15 points with Devin Booker behind him with 7 points. With four minutes left in the second quarter, Team USA was down by double digits. But once it was over, they were able to reduce the deficit to just three with a score of 43-45, in favor of Australia.
READ MORE: Michael Jordan, Kevin Durant & Other NBA Players That Forced The League to Change Rules
Where is this game heading?
Australia entered this matchup after a blowout 97-59 win against Argentina. Like most of their games, they were dominant on both ends of the floor, and in their bout against the USA, it was no different.
ADVERTISEMENT
Article continues below this ad
Veteran player Patty Mills has been unstoppable, but it was Dante Exum who led in scoring with 10 points at least until halftime. This team has all the necessary tools they need to crush an overconfident team USA.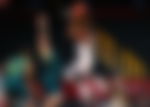 Despite USA having a star-studded roster, Australia has kept their lead intact. But will KD make his magic work again and turn the tables around? Or will Australia punch them with another loss that will knock them out of the race for the gold?
ADVERTISEMENT
Article continues below this ad