WATCH: Klay Thompson Shows His Class During Workout With Warriors' G-League Team
Published 11/29/2021, 10:50 PM EST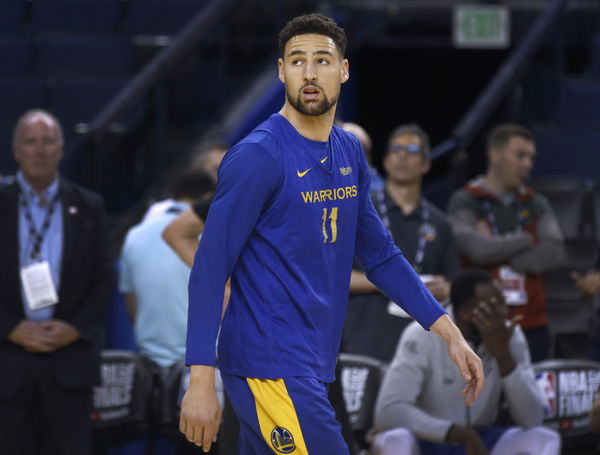 Fans have been counting the days before they get to see Klay Thompson finally return and play on the hardwood floor as part of the Golden State Warriors. However, before he makes his way back completely to play in the league, he has been assigned to the Santa Cruz Warriors' G-League to work through his rehab.
The sight of this Splash Brother finally doing what he does best, will only excite you more about his eventual return in December.
Klay Thompson has been waiting for a long time too
ADVERTISEMENT
Article continues below this ad
The last time everyone saw Klay Thompson was in the 2019 NBA Finals. Since then it has all gone downhill for the Warriors. They were hardly surviving in his absence, and the only reason why fans were clinging on to any hope was Stephen Curry.
However, something changed majorly this season. It could be the mere emergence of Jordan Poole as a starter in place of Thompson, or the motivation to keep the Warriors at the top until Klay returns. Whatever it is, it has been working wonders.
The best part is that because the Warriors have been able to hold the first this season so well without Thompson – it lifts a lot of pressure off of him. He can return slowly and at his own pace.
A look at the video of his practice sessions with the G-league will surely make you feel that he will come back with all guns blazing.
WATCH THIS STORY: From as Obvious as His Dog 'Rocco' To as Bizarre as His Socks, Here Are 10 Essentials Klay Thompson Can't Live Without
Will the Golden State Warriors continue to impress?
The Dubs have the best record in the league at 18-2 and are on a seven-game winning streak right now. There is no reason to doubt that it'll only get better from here. In fact, fans aren't the only ones who are eager to see Klay return.
"I hate to use the phrase 'can't wait' because I love to be present in my life," stated the shooting guard. "But I cannot wait. I really, really enjoy being a Warriors."
ADVERTISEMENT
Article continues below this ad
His dedication to getting back into full health and playing for the team he loves so much is very evident in these videos that are going viral.
ADVERTISEMENT
Article continues below this ad
However, until he returns, let's hope the Warriors keep up the momentum and continue to keep us entertained with their stellar performances almost every night.