WATCH: Kyrie Irving Making Highlight Reel Shots For Brooklyn Nets Against Warriors' Draymond Green
Published 02/13/2021, 10:27 PM EST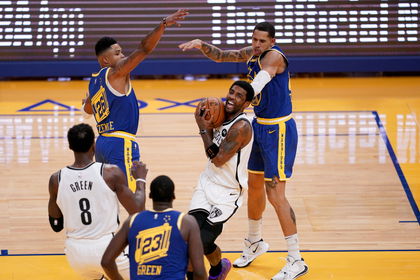 ---
---
For a long time, Kyrie Irving has been considered as one of the most skilled shot makers in the NBA. He finishes shots with a ridiculous degree of difficulty on a regular basis.
ADVERTISEMENT
Article continues below this ad
Irving has created long highlight packages of just his jelly finishes around the rim and some of the slickest dribble moves in the modern NBA.
He is putting his full arsenal to use against the Golden State Warriors, a team he won his 2016 championship against in a historic 3-1 comeback. Irving is having fun with forward Draymond Green, putting him on the wrong end of some incredible highlights.
ADVERTISEMENT
Article continues below this ad
Green went in the wrong direction out on the perimeter, and Kyrie made him pay for it by draining a beautiful step-back three. Kyrie also dribbled past Green and created space for himself in a beautiful finish at the rim.
Everyone knows Green is one of the best defenders in the league, so these plays are incredibly impressive.
Kyrie Irving: Still the craftiest point guard in the league?
Kyrie Irving has one of the best highlight packages in the NBA based on his dribble moves alone. The skill required to be that smooth while dribbling a ball is crazy, and Kyrie has long been considered one of the craftiest ball-handlers in the NBA.
ADVERTISEMENT
Article continues below this ad
While there are athletic beasts like Russell Westbrook who finish at the rim with power, there are few dribblers like Kyrie.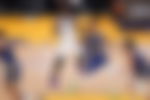 However, there are a few that are in the pipeline. De'Aaron Fox is one of the fastest players in the league and giving him even a little bit of space means he can be gone before you know it. He is adding an arsenal of tough finishes to his resume as well. But there are few who do what Kyrie does.
ADVERTISEMENT
Article continues below this ad
Despite the physical disadvantages, Kyrie doesn't use pure speed or athletic ability to dominate. His skill with the ball is genuinely unmatched. But just to add to what he can do, Kyrie is a dangerous finisher and a pin-point shooter. On his day, Kyrie Irving is the best point guard in the NBA.