WATCH: Lakers' Carmelo Anthony Almost Comes to Blows With Kings Player After Intense Trash Talking
Published 11/27/2021, 12:24 AM EST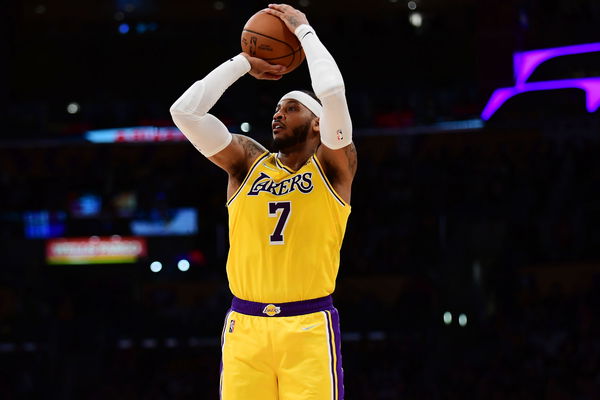 Winning this matchup against the Sacramento Kings is vital for the Los Angeles Lakers to get back into the race. It's their inability to draw consistent wins that have landed them on the lower strata of the Western Conference with a 9-9 record. However, considering the Kings haven't had the best start to the season either, it shouldn't be tough. Or atleatst that's what we thought.
Moreover, it seems like there might not be any Lakers match now that goes smoothly and without any drama. As the first quarter was nearing it's end, another fight could have broken out between Carmelo Anthony and Kings' Marvin Bagely.
Lakers were inches away from another fight
ADVERTISEMENT
Article continues below this ad
The Los Angeles Lakers and the Kings have one thing in common. Both have plenty of going on. The purple and gold are busy with all the controversy around LeBron James vs Isaiah Stewart, what happened between him and those fans at the Indiana Pacers game, and even with the fine that the NBA is issuing against him because of his inappropriate behavior on and off the court.
On the other hand, the Sacramento Kings recently fired head coach Luke Walton. However, it seems like the Kings are thriving under their interim coach Alvin Gentry, under whom they had a surprisingly stellar performance against the Portland Trail Blazers and grabbed a win. In fact, even against the Lakers, they have been putting up quite a fight in the first half.
The two teams entered this game with a lot of aggression, something that transpired into the following events. As Melo tried to guard Bagely, he pissed him off with his tactics, which led to some major trash talking once the buzzer went off. The two players were inches away from each other as they spoke their minds. If they hadn't controlled themselves, the Lakers could have added this to their list of scuffles this season.
WATCH THIS STORY: The Weirdest Things Michael Jordan, Carmelo Anthony & Other NBA Players Have Bought
ADVERTISEMENT
Article continues below this ad
Sacramento Kings giving them a run for their money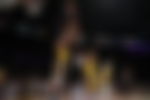 Actually, both teams put up the same number of points in the first and the second quarter. So, the first half ended with a 43-43 score, giving Lakers fans more reasons to panic. Losing this game would be quite humiliating.
ADVERTISEMENT
Article continues below this ad
A trio like Russell Westbrook, LeBron James, and Anthony Davis, unable to hold off a barely competitive team, it's like they're asking to be bashed. Thankfully, they were able to grab a double-digit lead in the second half. The only question remains whether they will be able to hold it? Or will the Kings pull off an unbelievable upset?