WATCH: Lakers Fans Finally Witness Carmelo Anthony's Iconic 'F**k Outta Here' Rebounds
Published 10/13/2021, 12:28 AM EDT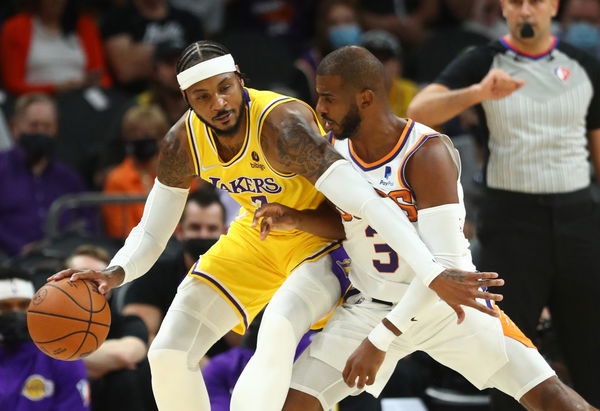 ---
---
The Los Angeles Lakers are back on the floor and will hope to get back to winning ways. They are out for revenge against the Golden State Warriors after suffering a prior loss to them. With a lot on the line tonight, all three stars are starting for the first time. Moreover, fans also got a taste of an iconic moment of veteran Carmelo Anthony.
ADVERTISEMENT
Article continues below this ad
Melo has been quiet through the first 4 preseason games so far. While he has been performing well, his voice hasn't come up. Despite a bad offensive showing by the rest of the Lakers, Carmelo had a great night out against Phoenix. He ended the game with 17 points in just 16 minutes, shooting 50% from the field.
One thing Melo had made his name for was his rebound antics. While grabbing a clear rebound, he yells, and that has become his staple. And now the Lakers fans got the taste of it.
ADVERTISEMENT
Article continues below this ad
WATCH THIS STORY- 5 Reasons Why Michael Jordans 96 Chicago Bulls Deserve to be Crowned Greatest Team of All Time
Carmelo asks fellow Lakers to get out of his way
Carmelo Anthony is starting against the Golden State Warriors. Moreover, with LeBron, Westbrook, and Davis taking the floor for the first time, the energy in the arena is different. The fans are getting a glimpse of what they can expect from the Lakers this season. With so much going on, Carmelo had to bring in his famous tradition to add to the already special day.
Whenever Melo goes for the rebound, he has had the habit of yelling, 'f**k outta here'. This quickly became a tradition as fans took notice of it through the mics. Today, he did it for the first time in a Lakers jersey. Like once wasn't good enough, Melo did it in two consecutive plays against the Warriors.
ADVERTISEMENT
Article continues below this ad
The first time around, it was a clear rebound for Carmelo Anthony. Hence, it was the perfect opportunity to bring his iconic tradition. However, the second time, Rondo felt the impact and the ball almost went out of play during that possession.
Watch This Story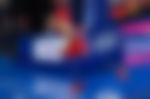 ADVERTISEMENT
Article continues below this ad
The main sign is the energy that Melo continues to play with. This is great news for the Lakers and they will hope Melo can deliver on the offense while keeping the energy alive.
With so much on the line tonight, do you think the Los Angeles Lakers will finally come out on top? Let us know your views in the comments below.