WATCH: Lakers' LeBron James Toys With Suns' Jae Crowder and Makes Him Look Silly
Published 05/28/2021, 12:47 AM EDT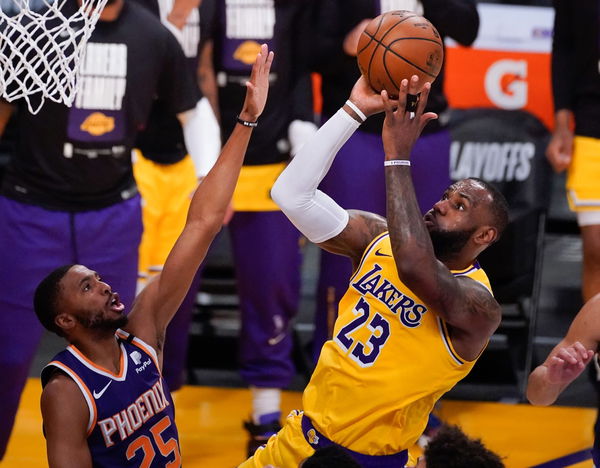 ---
---
With the first round of the playoffs in full force, the Los Angeles Lakers locked horns with the Phoenix Suns in Game 3. Both teams entered this match with a different mindset but the same purpose. While the Suns wanted to win this game to regain their lead, the Lakers, who knotted the series at 1-1 in Game 2, looked to maintain that momentum and win. And it seems like LeBron James is planning to have fun with it while doing it.
ADVERTISEMENT
Article continues below this ad
LeBron James toying with Crowder
The Lakers and Suns series has undoubtedly been gripping from the word go. The Lakers not only have a chance to win their second straight title, but they have to defeat one of the top teams of the West to do it. And, of course, as long as LeBron James is on the court, how can the game not be entertaining?
ADVERTISEMENT
Article continues below this ad
With the fourth quarter almost halfway through, Bron decided to add some fun to the game. He was seen toying around with Suns' Jae Crowder and then eventually taking the shot.
Even the Lakers bench players couldn't get enough of it and were seen having the time of their life.
Do the Lakers have the Suns all figured out?
The first loss had every Lakers supporter worried, but their efficiency on both ends of the floor in Game 2 gave them a big sigh of relief. The Lakers were still alive and running for the championship.
A mediocre performance from Anthony Davis in the first game motivated him to do better as he put up 34 points, 10 rebounds, 7 assists, and 3 blocks in the last game.
ADVERTISEMENT
Article continues below this ad
After a lousy effort on the Lakers' part in the first game, it cost them a vital head-start. Luckily for the purple and gold fans, they rallied back to make it even, and this third game will determine who has better chances of advancing to the second record. Now, it seems like the Lakers have Game 3 also under their control.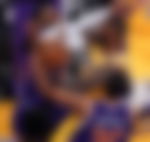 The Suns are trailing by double digits with only 2 minutes left for the buzzer to go off. Can the Suns still cause an upset? Or will LeBron James continue this joy ride and take the Lakers to another win?
ADVERTISEMENT
Article continues below this ad