WATCH: LeBron James and Anthony Davis Get Kicked in the Groin After Dirty Plays by Kings
Published 11/27/2021, 1:35 AM EST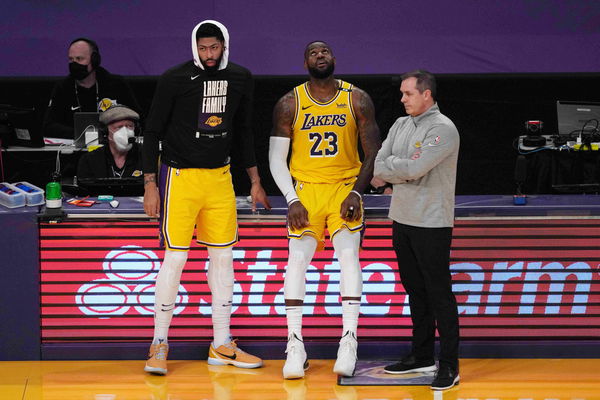 The Los Angeles Lakers have a lot at stake playing against the Sacramento Kings. They finally have all three of their superstars healthy and playing together, something that could have also changed tonight. Looks like the Kings players were on a mission. It was absolutely uncanny that both LeBron James and Anthony Davis were kicked in the same place, just minutes apart from each other. And if  this somehow tampers with the result of the game, the purple and gold are in big trouble.
Lakers Anthony Davis and LeBron James meet the same fate
ADVERTISEMENT
Article continues below this ad
Last season, both LeBron James and Anthony Davis were injured for a long period of time. It was their absence and the inability of the rest of the roster to not be able to carry the team without them, that crushed their hopes at a second straight title. However, bringing in Russell Westbrook was the contingency plan for such a situation.
But as we have seen, Russ is unable to step up in moments when LeBron or even AD is sitting out. This means that for the Lakers to bag wins, it is vital that at least the dynamic duo stays away from any kind of injury woes. Unfortunately, that could have changed very quickly during their game against the Kings.
With 7 minutes remaining in the third quarter, Bron was driving towards the bucket when, when he gets kicked in the groin by a Kings' defender. Of course, it happened accidentally but for Davis to also get hit in the groin while playing defense, was worrying and hilarious at the same time.
ADVERTISEMENT
Article continues below this ad
Will the Kings pull off an upset?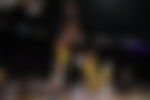 In the entire first half, both teams were going head to head with each other. The match was so close that by halftime; they were tied at 43 points. Then, the Lakers gave some hope to fans in the third quarter, taking a double-digit lead.
ADVERTISEMENT
Article continues below this ad
But this game was filled with roller coasters, and the Sacramento Kings were not one's to give in so easily. They pulled off an incredible comeback in the fourth quarter and caught up to the purple and gold. With mere seconds left into the buzzer going off. Who will come out victorious?